I haven't made any New Year's resolutions to
lose weight
. I probably could stand to drop a few pounds, as my jeans are still a little
tighter
than I would like. But, instead of focusing on weight loss, I am trying to continue with my previous goal to eat
balanced meals
and be
active
. Yes, sometimes my meals are very high in fat, calories, and all of those other sinful components. I like comfort food. I am not going to avoid that. What I do is try to balance a heavy meal with a few lighter ones.
Creamy, cheesy baked tortellini
is followed by salads for lunch and snacks of fruit, whole grains, and lean proteins. A few extra minutes on the
treadmill
, or an extra set of sit-ups doesn't hurt either.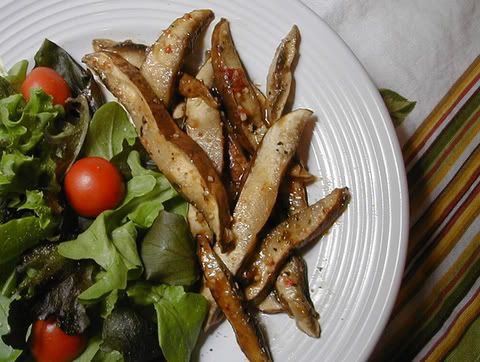 But, an avid reader reminded me that my blog isn't currently reflecting that
balance
. My January meals have appeared to be very heavy On My Plate. I think it is time to share something lighter, but still delicious and filling. It is time for a main dish salad that is so yummy that even those who think that the only good salad is
covered
with ranch dressing and cheese will eat it. Sauteed Mushrooms are a filling source of protein and make a great topping for a bed of mixed greens and cherry tomatoes. As the mushrooms are marinated in flavorful Italian dressing, no additional dressing on the salad is really even necessary. It's a light meal that this comfort food girl loves On My Plate.
Sauteed Mushrooms Over Green Salad
4 Portabello mushrooms
1/2 - 1 cup Italian dressing
salt and pepper
1 bag mixed salad greens
cherry tomatoes

Scrape out belly of mushroom and slice into strips.
Sauté in pan with Italian dressing and seasonings until tender.
Serve on top of bed of mixed salad greens and cherry tomatoes.
Season with salt and pepper. (Serves 4)