(Click to make the cartoon larger for viewing.)
Answers.com
describes Malice Aforethought as:
A predetermination to commit an act without legal justification or excuse.
I agree with
Calvin
. My toaster often aggravates me with malice aforethought. A few years ago, I made a deal with myself. I was coveting an incredible stainless toaster that had more settings and options than my car. I told myself that if I worked out every day and stuck to a sensible meal plan to loose 10 pounds, I could have the toaster. After a few missed workouts and a several dips into the pit of fast food, I didn't loose the full 10 pounds. I couldn't allow myself to purchase the new toaster. I am stuck with my $9.99 version that seems to need lithium to control its mood swings.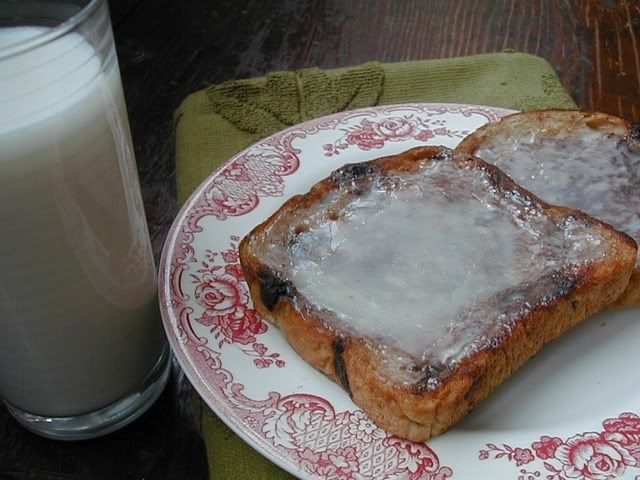 Thankfully, not all toast needs a toaster to be enjoyed.
Glazed Cinnamon Raisin Toast
is a favorite sweet breakfast treat for me, and its warmed browned goodness is created in a skillet or on a griddle, much like grilled cheese. This is an entirely new level of cinnamon toast. Choose white, wheat, or any of your favorite breads, if you don't care for raisins. Quick and yummy are good things in the morning, right? ...especially when you don't have to deal with a toaster that schemes against you.
2 slices raisin bread
1 teaspoon cinnamon
1 tablespoon butter
1/2 cup confectioners sugar
1/2 tablespoon water
1/8 teaspoon vanilla

Whisk confectioners sugar, water, and vanilla together to make glaze.
Sprinkle cinnamon on one side of each slice of bread.
Butter that side of the bread.
Place buttered side down in a moderately hot skillet until lightly toasted.
Turn and leave on other side just long enough to toast.
Spread hot toast with glaze.