Wedges
have been popular in footwear this past year, and even with
ballet flats
skimming into the spotlight, wedges continue to hold our attention. Last summer, I picked up a couple of pairs of wedgie
sandals
. This past fall, I found
loafer
styles with this comfy, easy on the feet heel. And, of course, I had to wedge a new pair of
boots
into my closet for winter. Wedges have been the rage with me. Tonight, they jumped right up onto the dinner table and onto my plate.
I started my dinner with a crisp wedge of iceberg lettuce drizzled with blue cheese dressing and a scattering of chopped green onions and fresh ground pepper. I might have mentioned before that I
love
blue cheese. It's creamy, rich taste is a perfect complement to the clear, freshness of the lettuce. It is also a perfect sauce on my main course, a wedge of
Buffalo Chicken Pizza
. Blue cheese dressing, spicy-hot chicken, and gooey, melted cheese top my favorite ready-made thin crust for an incredible pizza. I would wedge this meal onto my plate any day.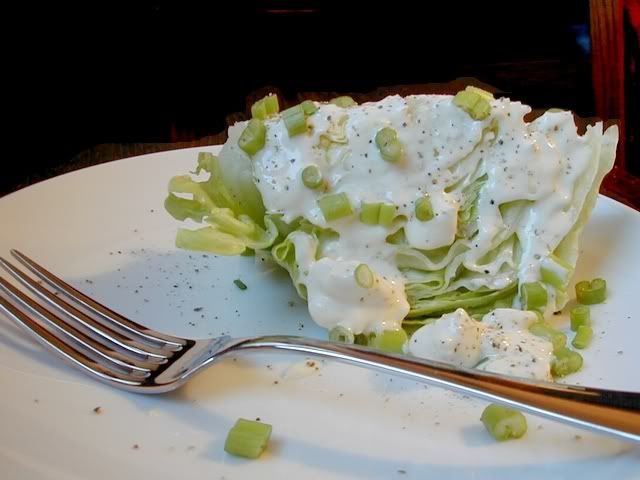 Iceberg Wedges with Blue Cheese Dressing
½ cup sour cream
½ cup mayonnaise
2-3 tablespoons lemon juice
½ cup blue cheese, crumbled
2 scallions, sliced
fresh ground black pepper
1 head iceberg lettuce
For dressing, combine sour cream, mayonnaise, and lemon juice in a bowl and mix well.
Stir in cheese, cover with plastic wrap, then refrigerate for at least 4 hours.
To serve, core head of lettuce and cut into 4 large wedges, spoon dressing over it, sprinkle with scallions, and season generously with pepper.
Buffalo Chicken Pizza
3 boneless, skinless chicken breast halves, cooked and cubed
2 teaspoons butter, melted
¼ - ½ cup hot sauce, to taste (I like Frank's Red Hot)
1 - 2 cups blue cheese salad dressing
1 prepared thin and crispy pizza crust
1 (8 ounce) package shredded mozzarella cheese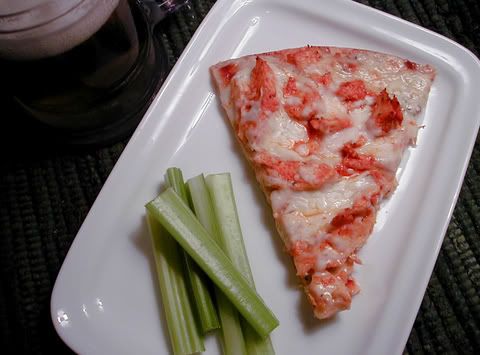 Preheat oven to 425 degrees F.
In a medium bowl combine the cubed chicken, melted butter and hot sauce.
Mix well.
Spread salad dressing over crust, then top with chicken mixture, and sprinkle with shredded cheese.
Bake in preheated oven until crust is golden brown and cheese is bubbly, about 5-10 minutes.