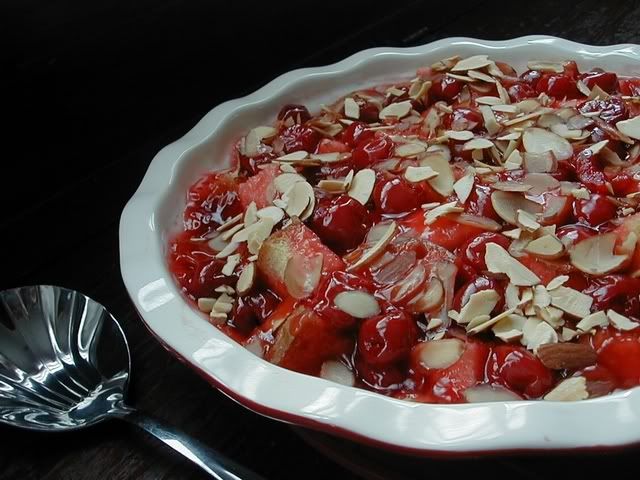 I cannot tell a
lie
. I didn't chop down a
cherry tree
. I didn't even do any real baking. I just threw together this
Simple Cherry Cobbler
recipe from the side of the
Sara Lee pound cake
box and enjoyed it very much. Just call me the
George Washington
of quick and easy.


Simple Cherry Cobbler
1 (12 ounce) frozen pound cake
1 (21 ounce) can cherry pie filling
1/3 cup water
½ teaspoon almond extract
2 tablespoons toasted sliced almonds, with a few more for garnishing plates


Cut pound cake into 1-inch cubes. Place cubes in a 9-inch microwave safe pie plate.
In a small bowl, combine pie filling, water, and almond extract.
Spoon pie filling over cubed cake and sprinkle with almonds.
Cover with plastic wrap and microwave on high 5-7 minutes (time may vary depending on your microwave), or until hot.
Serve warm with ice cream or whipped topping and additional toasted sliced almonds sprinkled on top.
*Fresh Fruit Option: Combine 2 cups fresh blueberries, raspberries, sliced peaches, or pitted cherries with 3/4 cup apricot jam and substitute for the pie filling. (Serves 6)


HAPPY PRESIDENT'S DAY!