Last night, I hosted a belated birthday dinner for Hubby and just about went
crazy
in the process. He loves
Chinese food
, and since those options are limited out here on the prairie, I had the brilliant idea that a
Chinese Buffet
would be great for our 20+ guests. (Do you see where this is going?) I cooked from 11am to about 7:30pm with only a short break to vacuum up the remains of a gutted stuffed toy that one of the pups had scattered on the living room rug. I was a
kitchen slave
for the love of my Hubby, and by the time the guests arrived, I was more than ready to dive into a
glass of wine
and relieve a little tension.
Perhaps, I was already
insane
before I even started cooking. Who plans 3 appetizers (although a friend did make the most fabulous
crab

rangoon
as one of the offerings), 2 soups, 3 main dishes, egg rolls, steamed and fried rice, sesame green beans, fortune cookies, and cake to all be created in one day and served that same night from a lowly, little,
home kitchen
? Who tries to feed 20+ people on
real plates
with
real flatware
in a house without enough table space and no dishwasher? I must be crazy in love with Hubby to even consider it. Thankfully, I have good friends who are always there to lend a
helping hand
just when I need it most.
After an incredibly hectic week, yesterday morning started with a mad dash to the next town for chicken breasts, as the economy sized Sam's Club bag of
boneless skinless boobs
that I thought was in my freezer couldn't be located when I tried to pull them out to defrost late Friday night. After that, I settled into the motion of food prep by first tackling meats in need of
marinating
, then the more labor intensive
egg rolls
, and finally all of the other things that needed last minute prep. The problem is that ALL Chinese food needs last minute prep. Pulling together multiple dishes requires some choreography and I will be the first to admit that I have no real sense of
rhythm
. After a full day of
hustling
in the kitchen, I am more than a little out of step. That is when my
friends
come in and take over the lead. That is the thing they do for loving me.
After only a few meltdowns on my part, it was a great party with everyone finding something to enjoy on the buffet. Fun and
laughter
were the theme of the evening. Hubby's 41st year was ushered in with incredible love, camaraderie, and a few shocking experiences. I would say more, but as those in attendance know...
what happens here, stays here
. :~) You can be sure that while I might not attempt Chinese for 20+ people again, I certainly won't hesitate to host
another party
. I do love these people.
And...in that vein, I am going to go against what would be expected for my blog report of the party. I am not going to post the Asian inspired recipes served at the party. (Although, if you are interested, just ask. Everything was very good and worth sharing, if I may say so myself.) One of my friends (who WOULD look great in
big girl shoes
) asked if the birthday cake recipe was going to be posted on this blog. Out of love, I am going to oblige. I haven't had a chance to get a really decent photo of
Chocolate Eclair Cake
, but that doesn't mean that I shouldn't share a super simple, but oh so yummy recipe with people that I love.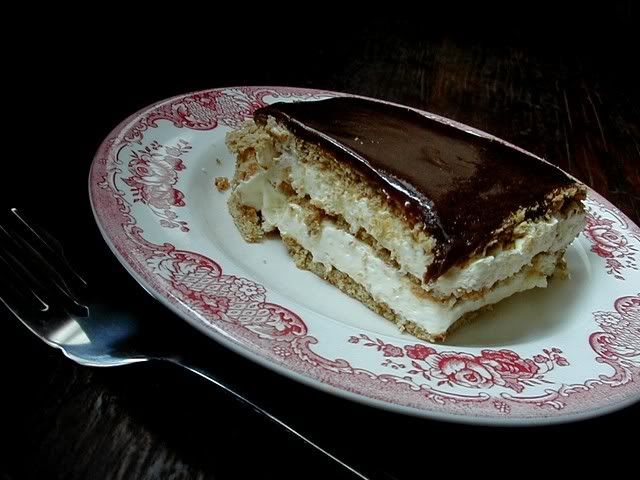 Another good friend and former co-worker provided this recipe back in the early years of my marriage. Hubby immediately claimed it for his birthday cake, and I have made it most of the 18 years we have been together. I think that it is a perfect cool finish for a heavy or spicy meal, and it can even be lightened up with sugar-free pudding and light whipped topping. People inhale it, and Hubby can eat an entire pan by himself. There are things that are unmentionable that people will do for the love of this cake. :~)
Chocolate Eclair Cake
1 (1 pound) box honey graham crackers
2 small packages vanilla instant pudding
3 cups milk
1 (8 ounce) carton Cool Whip, thawed
2 ounces unsweetened chocolate
3 tablespoons butter
3 tablespoons milk
2 tablespoons white corn syrup
1 teaspoon vanilla
1 ½ cups powdered sugar
Line buttered 9 x 12 dish with graham crackers.
Combine pudding mix with milk.
Fold in Cool Whip.
Pour half of the mixture over crackers.
Add second layer of crackers.
Add remaining pudding mixture.
Add final layer of graham crackers.
Over medium heat, melt chocolate glaze except for the powdered sugar.
Remove from heat.
Beat in 1-1/2 cups powdered sugar.
Pour over crackers.
Refrigerate overnight. (Serves 12)