The
Arctic winds
have swooped down on us, and we are cold. Temperatures start at or below zero in the early morning and have risen to the 20s, but the frigid wind chills keep us looking for another layer of clothing for warmth. My fingers itch to adjust the
thermostat
for our heat pump, but instead I have tossed another log into the
fire
and searched out foods that can warm me from the inside out.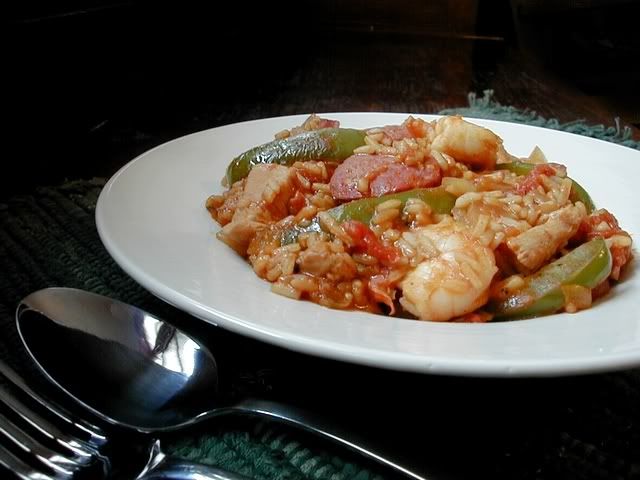 This quest has led me to
low-country food
. The spicy, flavorful heat of low-country food can really warm up my snow-country. Last night's dinner (and today's lunch) was a lazy version of Jambalaya made with
Zatarain's rice mix
. I am certain that my from the box shortcut will make some people cringe, but it was a simple meal for a weeknight that was rich with lively
Creole
heat. Leftovers didn't rewarm badly for lunch today, either.
Lazy Jambalaya
1 small onion, chopped
1 green pepper, chopped
1 tablespoon olive oil
1 boneless skinless chicken breast, cubed
½ - 1 ring smoked sausage (like kielbasa)
1 (14 ounce) can diced tomatoes with garlic
1 (14 ounce) can chicken broth
1 box Zatarain's jambalaya mix
½ - 1 pound peeled and deveined shrimp
1 cup (approximately) beer, if necessary
1-2 tablespoons hot pepper sauce, to taste
Heat the oil in a saucepan over medium heat. Saute the onion and peppers until tender.
Add the chicken breast and sausage, cooking until browned.
Add the tomatoes and their liquid along with chicken broth. Bring to a boil.
Add the rice mix. Reduce heat, cover, and cook for the time specified on the package. May add beer as necessary for additional liquid, if the rice begins to look dry before it is tender.
Add the shrimp, stir, cover, and cook until pink, 3 to 4 minutes.
Add the hot pepper sauce before serving.