Yep. You got it right. Today, I am on the road. Today, I am trucking. A few months ago, Hubby started purchasing a liquid feed supplement that is a by-product of converting the corn at an
area ethanol plant
. It is a daily part of the rations for the
lambs
, and he uses a lot. Consequently, it wasn't long before the shipping charges were overtaking us. The solution? Purchase a
tanker truck
and haul it ourselves. Hubby makes the trip at least once, if not twice, a week to maintain his supply. Today, I am joining him.
We don't get to spend a lot of time together. His work (including these trips) keeps him quite busy. When he is home, he is exhausted and his eyes close shortly after he settles into his big leather chair. I decided that I would adjust my schedule to allow us a bit of together time when he had to stay awake (at least I hope that he will be awake; he
IS
driving).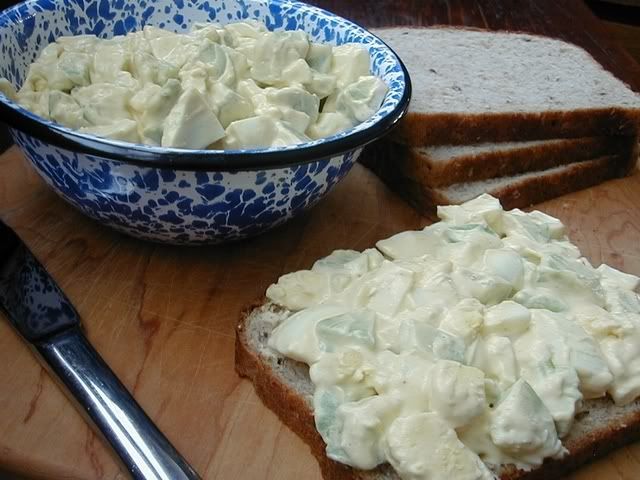 The travel plan for this trip is tight. Lunch for Hubby is often a
tuna meal kit
in the truck while he is loading at the plant. At the last minute, I decided that a picnic in the truck sleeper would be fun for us. Unfortunately, I decided this after it was too late to gather any picnic supplies. I had to make due with what I had on hand. A survey of the fridge found some eggs, and the memory of an
Avocado and Egg Salad
that I had once prepared came to me. Yum! That would be great for picnic sandwiches. I prepped some fresh veggies, baked a few cookies from the tub of peanut butter and chocolate chunk dough purchased from a
school fundraiser
, and had the makings of a picnic underway. It would be a fun trip and provide us both with a little release.
As I am waiting this morning for Hubby to return from his morning chores and start the road trip, a realization has hit me. I am traveling with my Hubby. I plan to feed this man eggs and stay in a very confined place with him for over 300 miles.
Pray for me
.
1 ripe avocado
1 hard-boiled egg
3-4 tablespoons chopped green onions
2 tablespoons mayonnaise
1 teaspoon garlic powder
salt and pepper, to taste
paprika
1/4 teaspoon lemon juice
Cut ripe avocado into chunks and toss with lemon juice.
Chop egg; add to avocado.
Stir in remaining ingredients.
Spread between slices of whole grain bread for a sandwich, or serve on a bed of lettuce as a salad. (Serves 2)