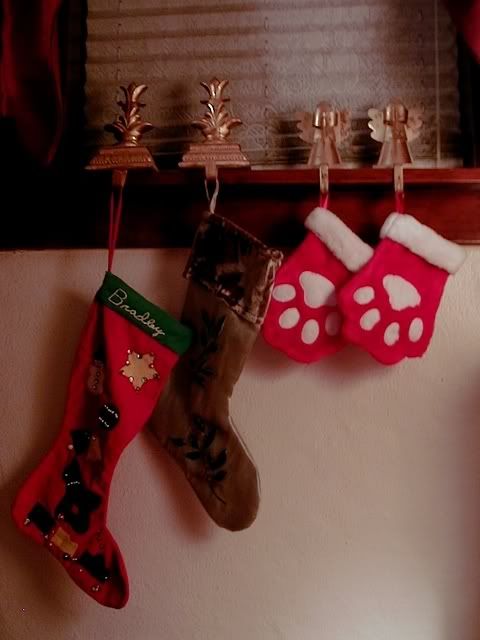 'Tis many nights after Christmas and into the New Year, but I am still trying to catch up with posts that I had wanted to make over the holidays. I hope that recording my menus will help me to plan other meals and future holidays...and hopefully, even give you a few ideas. So...please bear with me while I reminisce over what was on my plate this Christmas season.
I hosted my parents and younger sister for Christmas Eve dinner. We had a casual, but hearty dinner followed by our family
gift exchange
. My usual plan for our Christmas Eve meal is to serve
soup, sandwiches
, and
Christmas cookies
, but this year, I shook things up a bit while still keeping it relaxed.
Christmas Eve Dinner
SALAD
SIDE DISHES
Scalloped Potatoes and Onions
MAIN COURSE
DESSERTS
Seven-Layer Salads have been around since before I was born. They are
potluck
staples and overall classics for their ease of preparation and great presentation. Recipes vary, and I have previously shared with you a
Cooking Light version
that omits the frozen peas in favor of kidney beans, but for Christmas Eve, I wanted the crisp, green sweetness of the peas. A cut glass bowl makes the most of the
visual appeal
of this salad.
Classic Seven Layer Salad
1 head iceberg lettuce, cored and cut into pieces
1 cucumber, seeded and sliced
1 cup frozen peas, rinsed and drained
1 ½ cups thinly sliced celery
1 red onion, thinly sliced
6 ounces sharp cheddar cheese, shredded
½ pound bacon, cooked until crisp and crumbled
2 cups mayonnaise
2 tablespoons sugar
½ cup sour cream
1 tablespoon Lawry's Seasoned Salt

Layer first 5 ingredients one at a time (do not mix) into a large glass bowl so you can see each layer.
Mix all mayo, sugar, sour cream, and seasoned salt together and pour evenly over salad.
Finish with a layer of cheese then the final layer of bacon.

Green Beans with Almonds starts by steaming fresh green beans and sauting sliced almonds in a little butter. Lemon juice brightens the flavors of the entire dish just before serving. I love the crispness of fresh green beans. Yum!
Green Beans with Almonds
½ pound fresh green beans
1 tablespoon butter
2 tablespoons sliced almonds
2 teaspoons olive oil
1 teaspoon lemon juice
salt and pepper, to taste
Steam beans for 3 to 5 minutes, or until tender-crisp.
In a small skillet, melt butter and add almonds on medium heat until toasty. Remove from heat.
Mix olive oil and lemon juice together in a medium-large bowl.
Toss drained beans with olive oil mixture. Top with toasted almonds.
Salt and pepper to taste.
Scalloped Potatoes and Onions
was a new dish that will definitly be repeated in our home. A creamy sauce is poured over layers of thinly sliced potatoes and onions and baked. How easy is that? This version omits any cheese and uses
mayonnaise
for a flavor boost. I admit that the ingredients did worry me a bit, but the end result was a fabulous potato dish that did not disappoint us on our holiday table.
Scalloped Potatoes and Onions
5 large potatoes, pared and thinly sliced
½ cup chopped onions
3 tablespoons butter
¼ cup flour
¾ teaspoon salt
1 (14 ounce) can chicken broth
¼ cup mayonnaise
1/8 teaspoon pepper
paprika
In a 1 1/2 quart greased casserole, layer potatoes and onions.
In a medium saucepan, melt butter; stir in flour and whisk until smooth and frothy.
Gradually add the broth, mayonnaise, salt and pepper. Stir until this mixture thickens.
Pour over potatoes and onions. Sprinkle generously with paprika.
Bake in a preheated 350 oven for 1 hour or until potatoes are tender.
Our ham was basted with a
Simple Ham Glaze
of corn syrup, brown sugar, brown grainy mustard, and spices. I had chosen a
spiral cut ham
that baked beautifully with the glaze and was tender and juicy.
Simple Ham Glaze
1 cup light corn syrup
½ cup firmly packed brown sugar
3 tablespoons brown grainy mustard
½ teaspoon ground ginger
1 dash ground cloves
In 2-quart saucepan combine all ingredients.
Stirring constantly, bring to boil over medium heat and boil 5 minutes.
Brush frequently on ham during last 1/2 hour of baking.
Our pies were *shock* frozen, premade versions from
Schwan's
. I had picked them up to have on hand as quick sweet treats for Hubby and I, but decided that it was time to clear them from the freezer. I don't mind making pies, and I know that it may seem a disgrace to serve frozen pies at a holiday, but in reality, my family didn't mind. I had one less thing to fuss over, and it made the prep for the evening much easier.
Rachel Ray
often says to take the help where you can get it. I don't know that I will again serve frozen pies for a holiday meal, but I certainly won't worry if I do. I may not have millions and billions of homes to visit with a
sleigh full of toys
, but I always seem to have plenty of good things on my plate for Christmas Eve...even when I don't prepare my own pies.