Kermit
had it right. Green isn't easy. When we first purchased
this house
, the kitchen was painted a horrible
mustardy shade of brown
. I didn't want to do the tradition old house white kitchen and debated about paint colors for what seemed like eternity. Finally, I settled on a deep
foresty green
for the cupboards with the walls in taupe and cream. Hubby fought me. He didn't like the idea of the green cupboards. I bought the paint and started painting on my own, and eventually he came around.
Unfortunately, after 10 years, he seems to have come around so much that he isn't pleased with the ideas that I now have for the kitchen. I am ready for change. I would love to have an entirely new kitchen, and that plan is in the works, but several years down the road. In the meantime, I want to repaint in
new shades of green
. Again, Hubby isn't impressed. This time, he is proclaiming a love for the deep foresty green, and this time, I am again purchasing the paint and starting on my own. I am trusting that he will come around eventually…probably just in time for the full renovations.
It isn't always easy to get enough green in our diets, either. Because we recognize the importance of the nutrition that greens can provide, I usually try to choose green veggies as sides for dinner. Spinach is one of my favorites, and I went into severe withdrawal during the recent
E. coli
scare. I add it to meatballs and meatloaves, in soups, to pasta sauces, use it in appetizers, and sauté it. Of course, there are also always salads; wonderful, crisp, flavorful, fresh spinach salads. A simple one combines oranges and red onions with French dressing. You can use purchased, or make your own. This is a green that is easy.
Easy Spinach and Orange Salad
¾ pound fresh spinach, torn into bite-size pieces
3 medium oranges, peeled, sectioned, and seeded
1 medium red onion, sliced and separated into rings
1/4 to 1/3 cup French dressing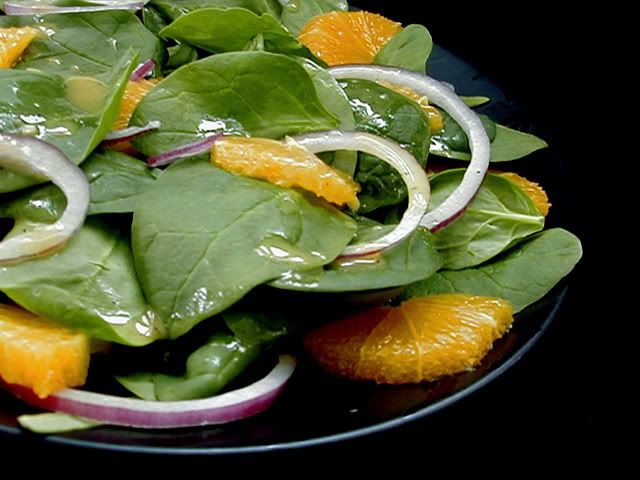 Wash spinach thoroughly and allow to dry (use a salad spinner, if you have one).
Combine spinach, orange sections, and sliced onion in a large salad bowl, tossing well.
Drizzle dressing over spinach mixture; toss gently.
French Dressing
¼ cup water
¼ cup red wine vinegar
½ teaspoon sugar
½ lemon, juiced
½ teaspoon salt
½ teaspoon fresh ground pepper
½ teaspoon Worcestershire sauce
¾ teaspoon dry mustard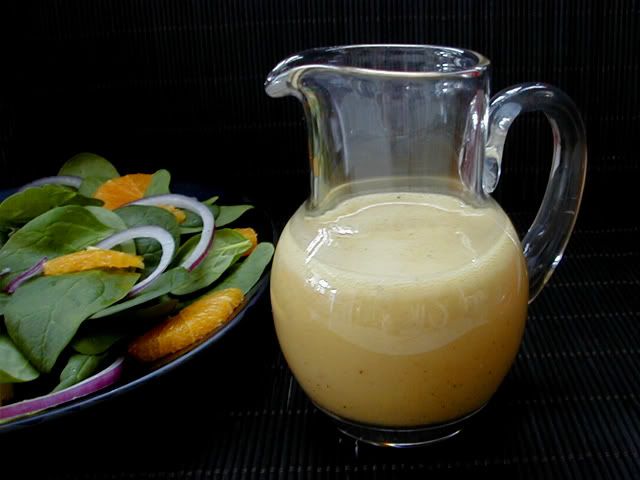 Combine all in a lidded jar.
Shake vigorously.
(This dressing is a little more tart and tangy than a purchased French dressing, but balances well with the sweetness of the oranges in the salad.)