A friend and I have standing monthly appointments at an area salon. We travel to a nearby river community to enjoy an afternoon of pampering and being treated like queens. It might be a simple day of just hair trims and color refreshing, or it might include a treat like a pedicure, manicure or massage. Regardless, we have come to relish the little self-indulgent get-away. The friends at the salon make sure that everything is special for us, and we greatly appreciate all of their extra efforts in spoiling us.
Since I was out of town, I haven't cooked today. My plates have been filled by other people. My meals were chosen from menus that weren't my own. It is all still good, though. Lunch was a bright and crisp chef salad from one of our favorite stops in
Chamberlain
. Dinner was take-out pizza picked up on our way home to share with our waiting families. I chose a pepperoni with extra cheese, and the aroma tempted me all the way home. I couldn't wait to dive into that cheesy goodness.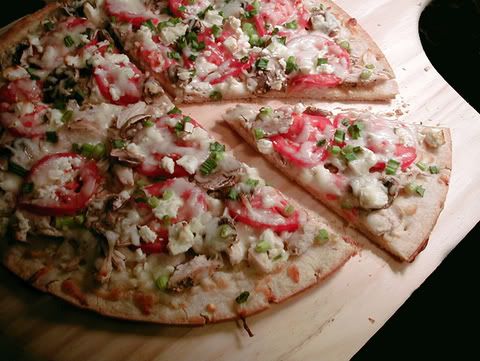 Pizza is one of my Hubby's favorite things. I think that he could eat it day after day and never tire of it. We have made many homemade pizzas over the years, and one stand out for me has been another recipe from Cooking Light.
Garlic Chicken Pizza
comes together quickly with a premade crust and leftover chicken. The tangy sauce and feta cheese make this pizza a little out of the ordinary and leave my taste buds dancing. This is
good
pizza.
2 tablespoons red wine vinegar
1 ½ tablespoons Dijon mustard
4 cloves garlic, minced
1 (16 ounce) thin style pizza crust
1 ½ cups shredded cooked chicken breast
1 cup chopped plum tomatoes
1 cup chopped mushrooms
¾ cup shredded part-skim mozzarella cheese
¼ cup crumbled feta cheese
¼ cup finely shredded fresh parmesan cheese
¼ cup chopped green onions
Preheat oven to 400°.
Combine first 3 ingredients, stirring well with a whisk. Place crust on a baking sheet; brush vinegar mixture over crust. Top with chicken, tomato, and mushrooms; sprinkle with cheeses and green onions.
Bake at 400° for 15 minutes or until cheeses melt. (Serves 6)