O Christmas tree, O Christmas tree, Much pleasure doth thou bring me!

Hubby and I put aside all the responsibilities and demands on our time today. We took a road trip and purchased our
fresh Christmas tree
. I can't begin to explain how much I love having a fresh tree each year. It just isn't Christmas without it. My allergies act up, it is a hassle to find time to travel to choose the perfect one, and daily watering and cleaning up the dropped needles are not chores that I enjoy, but I love having a fresh tree and find it all to be very much worth every supposed hassle. It is a tradition that I treasure.
I usually decorate 4 or 5
other trees
of various sizes and shapes that are scattered around our home, but the fresh tree has the place of honor in front of the living room window and is the first thing noticed by my holiday guests. We don't bring it into the house until mid-December to help prevent so many dry needles, but it (and all holiday decorations) usually stay up through Epiphany. I am always sad to see the twinkling lights and sparkly ornaments be put back into their boxes at the end of the Christmas season. Of course, this season, I am slow on getting the decorations out and up in the first place. The kitchen painting project is still on-going with me continuously being pulled away before I can accomplish much painting. Much to hubby's horror, I have joked that since I haven't had my decorations up since Thanksgiving (as is my usual plan), I will just have to leave them up through all of January. He vows that this won't be the case. It is still fun to tease him.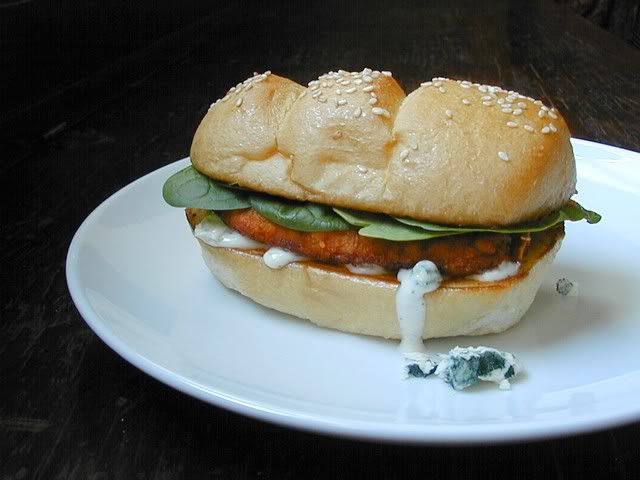 During our outing today, we stopped at
Ruby Tuesday
for a late lunch. After scanning the menu, I decided that my tastebuds wanted something with a little kick and ordered the Buffalo Chicken Sandwich. It was good...but, not as good as my own. Their bleu cheese dressing
was
very good, though. Just as I wouldn't want to face Christmas without my fresh tree, a Buffalo Chicken Sandwich is nothing without good bleu cheese dressing. However, I am the only one singing of the pleasures of bleu cheese in our home. Hubby is not a fan. As if the threat of constant Christmas decoration wasn't enough, I attempted to terrorize him further by offering to lick every drop of the savory dressing from the little condiment dish. I restrained myself, but am thinking that I should add my own Buffalo Chicken Sandwich to our menu once my kitchen is restored.
4 boneless skinless chicken breasts
½ cup bleu cheese salad dressing
¼ cup flour
¼ cup butter, melted
2 tablespoons hot pepper sauce
1 cup spinach leaves
4 deli rolls, split and lightly toasted
Place chicken between layers of plastic wrap or waxed paper.
Pound lightly with rolling pin or meat mallet to flatten.
Place 3 tablespoons blue cheese salad dressing in shallow baking dish.
Coat chicken lightly with dressing; dip in flour to coat.
Melt butter in a large skillet over medium heat.
Add chicken to skillet Cook, 5 minutes on one side to brown Cook 5 minutes on the other side to brown.
When cooked through, remove chicken from skillet.
Drain butter from skillet except for 1 tablespoon; add hot pepper sauce and stir to mix with butter.
Return to heat and add chicken.
Cook chicken 2 minutes on each side in pepper sauce.
Serve chicken on toasted buns with spinach leaves.
Serve blue cheese dressing on the side. (Serves 4)