I grew up attending church services every Sunday morning and coming home to a beef roast or a ham in the oven. As you walked into the house, the aroma rising from the roasting meat made your stomach growl in anticipation of the meal. Mashed potatoes were a common accompaniment, along with at least one vegetable side dish. Bread and butter were always on the table while I was growing up. It was solid, midwestern comfort food.
Today, I am taking advantage of a day spent around the house and preparing a couple of recipes that need some time in the oven.
Potato-Fennel Gratin
,
Roast Pork Loin
, and
Vanilla Glazed Carrots
will make up our Sunday Dinner and won't be served until after the sun goes down. Instead of coming in from church, we will be coming in from raking leaves and some other outdoor chores to a house smelling comforting and warm with good food. The gratin and pork need different oven temperatures, but the gratin can easily be prepared ahead and rewarmed just before serving. The blend of gruyere cheese with the fennel and onion really perk up the potato dish. The pork loin also has fennel in its mustard rub and is served with a sauce made up from the pan drippings. This is extreme comfort food that is good enough to share with company.
Potato-Fennel Gratin
2 small fennel bulbs
1 yellow onion, thinly sliced
2 tablespoons olive oil
1 tablespoon unsalted butter
2 pounds potatoes (about 4 large), sliced thinly
2 cups heavy cream, plus 2 tablespoons
2 ½ cups gruyere cheese, grated (1/2 pound)
1 teaspoon kosher salt
1 teaspoon black pepper
Preheat oven to 350.
Butter inside of a 10x15x2-inch (10 cup) baking dish.
Remove stalks and core of fennel, slice thinly crosswise.
Saute fennel and onions in the olive oil and butter on Medium heat for about 15 minutes or until tender.
Mix potatoes in a bowl with 2 cups cream and 2 cups gruyere, salt, pepper and the sauteed onion/fennel mixture.
Pour into baking dish, press down to smooth.
Combine remaining 2 tbl cream and 1/2 cup gruyere and sprinkle on top.
Bake for 1 hour or until potatoes are very tender and the top is browned and bubbly.
Let set for 10-15 minutes before serving. (Serves 10)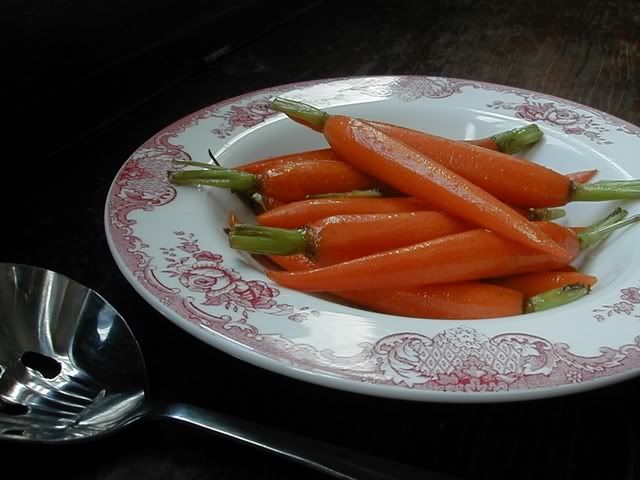 Vanilla Glazed Carrots
2 cups baby carrots
1 ½ tablespoons honey
¼ teaspoon vanilla extract
1 tablespoon butter
¼ teaspoon white wine vinegar
pinch salt
Combine all ingredients in a large sauté pan. The carrots should form a single layer in the pan.
Bring the carrots to a simmer on medium-high heat.
Reduce the liquid until the pan is just about dry.The carrots should be cooked through, shiny and delicious. (Serves 2)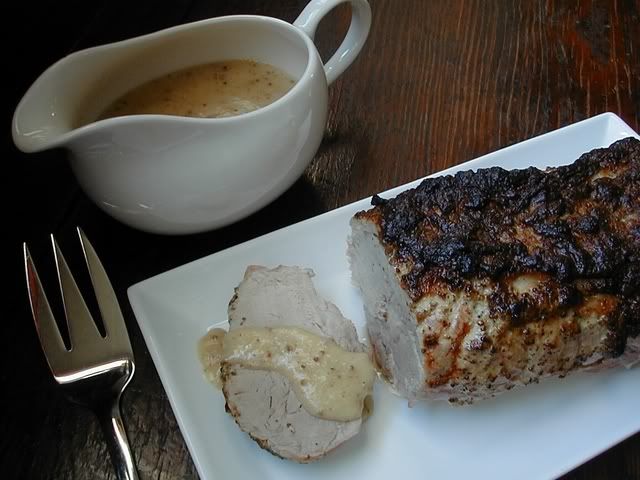 5 pound pork loin
2 tablespoons olive oil
4 teaspoons Dijon mustard, divided
4 teaspoons whole grain mustard, divided
1 teaspoon ground fennel
kosher salt
fresh ground black pepper
3 tablespoons flour
1 cup white wine
3 cups chicken broth
Preheat the oven to 400 degrees F. Allow the pork to stand at room temperature for 30 minutes.
Place the pork, fat side up, in a roasting pan just large enough to hold it comfortably. In a small bowl, whisk together the olive oil, 2 teaspoons of each mustard, the fennel seed, 2 teaspoons salt, and 1/2 teaspoon black pepper. Rub the mixture on top of the pork and roast for 1 to 1 1/4 hours, until the internal temperature reaches 140 degrees F. Remove from the oven, transfer to a cutting board, and cover tightly with aluminum foil for 20 minutes.
For the sauce, remove all but 1/4 cup of fat from the roasting pan. If there isn't 1/4 cup, add enough butter to the pan to make 1/4 cup total. Over medium heat, whisk the flour into the fat in the pan and cook for 1 minute. Add the wine and scrape up all the brown bits from the bottom of the pan. Add the chicken stock, the remaining 2 teaspoons of each mustard, 2 teaspoons salt, and 1/2 teaspoon black pepper. Bring to a boil, then lower the heat to a simmer for 5 to 10 minutes, until the sauce is reduced and slightly thickened.
Slice between the loin, and serve warm with the hot sauce. (Serves 6)