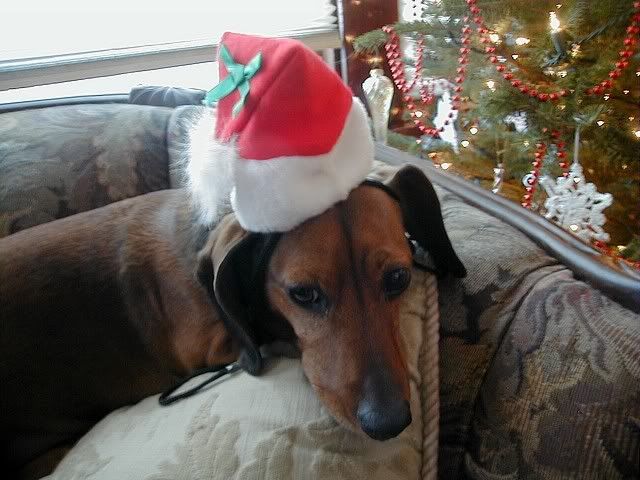 Each holiday season, we host a
party
to share the joys of the season with our
friends
. I try to schedule before Christmas, but the weather and demands of life don't always allow it. This year, on the day that I had planned for the party, we were bombarded with
freezing rain
,
lots of ice
, and snow. I decided that I didn't want to be responsible for my friends to be
travelling
on those kinds of roads and bit the bullet and called each person on the extensive guest list to postpone the party. Thankfully, it worked out to reschedule between Christmas and New Years, and our celebration went off without a hitch.
Our annual holiday party is open house style. We set the food buffet in the
kitchen
, drinks are arranged on the
credenza in my office
, sweets and desserts are on the
china hutch
in the dining room, and bowls of nuts and nibbles are scattered through the
living room
. Everyone comes and goes as they please, wandering through the house and enjoying the company and holiday spirit.
The buffet spread for this party is my time to try both new and old recipes. I like to keep the servings small, with bite-sized portions and mostly finger foods. I have collected a couple of different holiday
dinnerware patterns
and mix and match those along with other pieces from my extensive serving dish collection. This year, I was caught up in my last minute hustle and bustle of food preparations and presentations as more and more of the guests starting milling into the house. I was frantic to think that I had fallen so far behind...then, I looked at the clock and realized that everyone was at least half an hour early. Whew, I could breathe a sigh of relief. I guess that they couldn't wait to get to the food, or maybe they were just early to try to beat the
snowstorm
that was forecast for later that night. Regardless, I wasn't as far behind as I had feared. I had plenty of time to finish the prep for the food that would be on our plates.
~HOLIDAY PARTY MENU~
Nuts and Nibbles
(filling bowls scattered around the living room on side tables)
Smoked Almonds
Chipotle Lime Cashews
Chex Party Mix
Mixed Nuts
Dry Roasted Peanuts
Beverages

Crisp White Punch
Assorted Sodas
Bar Assortment
Wines
Appetizer Buffet
Fresh Veggies and Dip

Cranberry Feta Pinwheels

Spinach Pinwheel Appetizers
Seafood Salad Spread

Cheese Ball served with assorted Crackers

Pepperoni Chips
served with cubes of Pepper Jack, Cheddar, and Colby Jack cheese and assorted Crackers
Sauced Meatballs and Lil' Smokies
Teeny Tiny Ham and Cheese Sandwiches
Broccoli Cheese Appetizer Tarts
Bacon Rollups

Easy Pizza Dip
Jalapeno Chicken Crescent Pinwheels

Hot Chipped Beef and Chipotle Dip
My Own Homecanned Basic Salsa
Mushroom and Garlic Pizza
Peppery Beef Tenderloin
sliced super thin and presented in a chaffing dish with au jus...served with tiny fresh buns and horseradish sauce for little sandwiches

Chili's Spicy Garlic & Lime Shrimp
Sweets and Desserts
Fudge
Lemon Bark
Peanut Clusters
Raspberry Pastries
Cranberry Pistachio Bark
Ferrero Rocher Candies
Chocolate Covered Almonds
Cherry Divinity
Peanut Brittle
Chocolate Covered Cherries
Lemon Tea Cookies
Brachs Christmas Tree Mints

Candied Almonds
Bite-Sized Cheesecakes

Bite-Sized Creme Puffs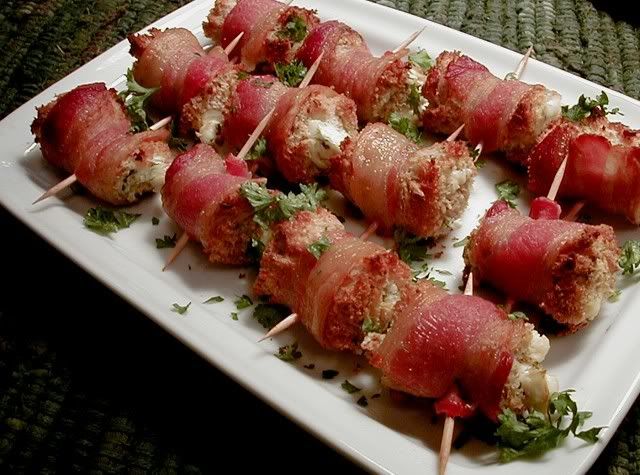 I am not going to bore you with all of the recipes for every dish that was served that night. Instead, I am only going to share one that is always a winner with almost every crowd, and usually yields several requests for the recipe. Bacon Rollups fit the theme for a lot of my cooking. They are very simple to prepare, can be prepared ahead of time, don't require any exotic ingredients that aren't available locally, and most importantly, people really like them. :~)
Bacon Rollups

1 tub cream cheese with chives (softened)
1 tablespoon milk or mayonnaise
sliced mixed grain bread (crusts removed and cut into thirds)
1 package sliced bacon (each slice cut in half)
parsley, for garnish

Combine cream cheese and milk (or mayonnaise) stirring until of spreading consistency.
Spread 1 teaspoon of cheese mixture on each bread slice.
Roll tightly from the smallest end.
Wrap with bacon and secure with toothpick.
Place on baking sheet covered with foil.
Bake at 350 degrees Fahrenheit for 30 minutes.
Turn if necessary, half way through baking.
Garnish with parsley if desired.
Note: These may be assembled ahead of time and frozen before cooking. To serve, remove frozen rollups from freezer and allow to thaw in the refrigerator over night. Then bake at 350 degrees Fahrenheit for 30 to 40 minutes.
There is always something for every taste and mood on my
holiday buffet
. Nobody goes away hungry. Although, this year I did fear that not everything was setting well with my guests. Part way through the evening, different people were noticing
"gases"
drifting through the air. People were being discreet and politely excusing themselves from the offensive areas and moving around. Finally, we discovered that it was Ace, our male miniature dachshund, that was blessing us all with these smells. It seems that a naughty act from the day before had caught up with him. In my absence, Ace and
Sissy
(our female mini doxie) had managed to snag and devour an entire bag of soft
puppy treats
. That rich indulgence was creating some digestive issues that weren't exactly pleasant. It was
embarrassing
, to say the least, but my guests did seem to understand, and didn't let a few puppy smells stop them from jingling their bells around my holiday buffet.
By the way...if you are interested in any of the other recipes from my Holiday Party, let me know. I will gladly share them.