Yesterday was
gray, rainy, and cool
. Spring rains drizzled during the day, and heavy
fog
settled in for the evening. It was gloomy, and as I attempted a little menu planning for today, the weather seemed perfect for comfort foods. I perused my recipe sources and found a recipe from the King of BAM!,
Emeril Lagasse
. A kicked up version of macaroni and cheese with
sausage
stirred in would satisfy that desire for creamy, gooey, comforting goodness while making our taste buds happy with the
spicy seasonings
that Emeril is known for. The plan was made.
Today, I got up and found it to still be a little cloudy and dreary. However, after a few hours, the
sun
came out, the temperatures rose to the 70s, and it was an absolutely beautiful, sunny,
spring day
. Bam! Spring has sprung. Rich and creamy mac and cheese no longer seemed like the perfect menu choice. Who wants to eat a heavy meal when the air is fresh, and the grass is greening, and the world seems to be coming alive? It is time to light the
barbecue grill
, sit outside on the
patio
, make plans for the
garden
and flowers, and, if you live in
my house
, the new grass in the front yard around last fall's
new sidewalk
.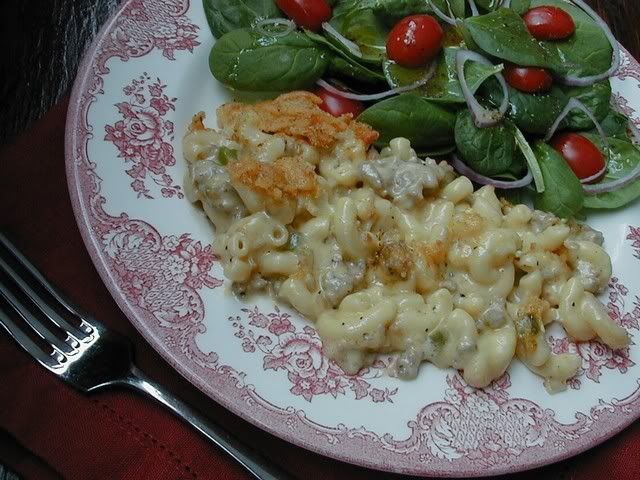 However, I didn't give into
sensibility
. I stuck with my menu plan. I
BAMMED
the sausage, onions, and peppers as I sauteed. I
BAMMED
the cheese sauce, and the breadcrumb and cheese topping, and after combining it all, I slid it into a warm oven that forced me to open every window in the house for heat relief. When the
Sausage Macaroni and Cheese
was bubbly and heated through, we dove into the well-flavored cheesy pasta. I served it with a simple spinach salad to balance the meal, and we were
BAMMED
. It was rich and heavy, but it was also very good and comforting, even on a warm spring day.
Emeril's Sausage Macaroni and Cheese

9 tablespoons unsalted butter
½ pound elbow macaroni
1 pound spicy pork sausage, removed from casings and crumbled
1 cup yellow onions, chopped
½ cup green bell peppers, chopped
1 tablespoon Essence of Emeril (I actually used a Cajun-style seasoning, instead)
4 teaspoons garlic, minced
½ teaspoon anise seeds
½ cup butter
½ cup flour
3 cups whole milk
1 teaspoon salt
½ teaspoon ground black pepper
1/8 teaspoon cayenne
3 cups sharp cheddar cheese, grated
½ cup fine dry breadcrumbs
Preheat the oven to 350 degrees F.
Butter a large casserole dish with 1 tablespoon of the butter and set aside.
Bring a large pot of salted water to a boil.
Add the macaroni and cook until al dente, about 10 minutes.
Drain in a colander and rinse under cold running water.
Drain well.
In a large skillet over medium-high heat, cook the sausage, stirring, until browned and the fat is rendered.
Remove with a slotted spoon and drain on paper towels.
Pour off all but 1 tablespoon of fat from the pan.
Add the onions, bell peppers, and 1 teaspoon of the Essence, and cook, stirring, over medium-high heat until soft, about 3 minutes.
Add the garlic and anise seeds, and cook, stirring, for 1 minute.
Remove from the heat.
Melt the butter in a large, heavy saucepan over medium heat.
Add the flour, and stirring constantly with a wooden spoon, cook over medium heat until thick, 3 to 4 minutes, being careful not to let the flour brown.
Using a whisk, add the milk in a steady stream and cook, whisking constantly, until thick and smooth, 4 to 5 minutes.
Remove from the heat.
Add the salt, pepper, cayenne, and 2 cups of the cheese, and stir well.
Add the noodles, cooked sausage and vegetables, and stir well to combine.
Pour into the prepared baking dish.
In a mixing bowl, combine the remaining 1 cup of cheese with the breadcrumbs and remaining 2 teaspoons of Essence.
Sprinkle over the macaroni and bake until golden brown and bubbly, about 25 minutes.
Remove from the oven and let rest for 5 minutes before serving. (Serves 6-8)