I like to start my day with a mug of tea. Several years ago, I discovered the
Republic of Tea
line and love their varied flavors and blends. My all time favorite is the
Vanilla Almond
, but I am also partial to
Pomegranate Green Tea
,
Good Hope Vanilla Red Tea
,
Kiwi Pear Green Tea
,
Tea of Inquiry
and
Pink Grapefruit Green Tea
. I am addicted to my teas and have collected a large assortment.
However, a recent find has left my teas collecting dust. I have blown the cobwebs off my coffee maker and brewed pot after pot of dark, rich coffee just to savor
Coffee-Mate's
seasonal Pumpkin Spice Creamer. Friends had been raving about it, but I hadn't been able to locate it in any local stores. I did find Southern Butter Pecan creamer just before Thanksgiving, and while it was good, it didn't set off any cravings for me. I enjoyed it, but could easily walk away from it and go back to my beloved teas. The Pumpkin Spice has me hooked. It is cream of the crop of pumpkin and spice and everything nice.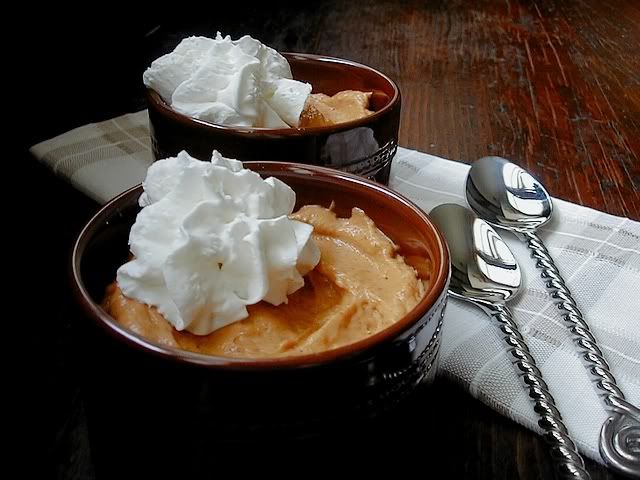 Another way to enjoy pumpkin and spice and everything nice is a super simple dessert pudding. I originally tried this recipe for our anniversary back in early October, and have repeated it several times since. While pumpkin and spice are traditionally considered fall and winter treats, this cool and creamy dessert doesn't have to be pegged as seasonal (like the Coffee-Mate creamer which will soon disappear from the dairy shelves). Those of us who love the flavor combination can savor it any time. You could even use low-fat products for the calorie conscious. Dig into some Pumpkin Pudding and start enjoying your own pumpkin and spice and everything nice.
Pumpkin Pudding
½ teaspoon cinnamon
1/8 teaspoon ginger
½ teaspoon cloves
¼ teaspoon baking soda
¾ cup cooked pumpkin (canned stuff)
1 ¼ cups cold milk
1 large package (or 2 small packages) instant butterscotch pudding mix
1 ¼ cups whipped cream (Cool Whip works)
Combine spices and baking soda in bowl.
Mix in pumpkin and blend well.
Add milk and pudding.
Beat for one minute.
Fold 1/2 cup of the whipped cream into the mixture.
Garnish with rest of the whipped cream. (Serves 4-6)