Hubby came home early tonight. It is usually at least 7pm or later before he finds his way home. During the summer, it is common for us to put off dinner until 10pm. His work demands long hours, and we don't get to spend much time together, but tonight he found a way to share a little more time. I think that should warrant a movie night. We subscribe to
Netflix
and always have a DVD waiting for us. Out here in the sticks, those red envelopes from Netflix are a godsend. There is no frustration with limited selections, no last minute long drives to find a movie, no late fees when we can't get back "to town" to return the movie on time, no hassle. Whenever we find the time, our biggest concern can be who is hogging the blanket as we cuddle up to enjoy the movie.
But, what would movie night be without popcorn? Just like pizza, popcorn is practically a food group for Hubby. His favorite popcorn is made on the stove top in a
Whirely Pop
popcorn maker, but the microwave serves well for those got-to-have-it-now cravings. The
Boy Scouts
know to always knock on our door during their sales promotions. Extra Butter, Kettle Corn, or Caramel, the variety doesn't matter as long as it is popcorn.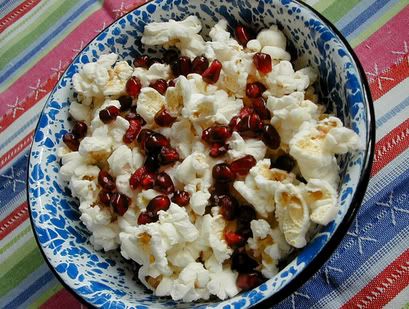 I have found a way to give our popcorn treat an anti-oxidant and flavor boost. Tangy pome-granate seeds are a great combination with slightly sweet, yet salty popcorn. Until last year, I had only sampled
pomegranate juice
, and had no clue what to do with the
luscious edible seeds
of the whole fruit. Now, I am adding the colorful seeds to salads, chicken dishes, and this great popcorn treat. Grab a movie, a blanket for cuddling, some popcorn...and don't be afraid to try a little pomegranate.
1 bag microwave Kettle Corn popcorn
1 medium pomegranate
salt, to taste

Remove the seeds from the pomegranate.
Pop the popcorn according to package directions.
Salt the popcorn to taste.
Put about a cup of popcorn in a bowl.
Add a handful (about 1/4 cup) of pomegranate seeds.
I suggest mixing this a bowl full at a time, because the pomegranate sinks to the bottom.
Be sure to get some of both the pomegranate and popcorn in each bite to truly enjoy this snack.