Our weather has been balmy in the 50s and even up to the 60s for the past few days, but today we were reminded that it is actually winter. Temperatures have sunk to the teens with a sharp, cold wind. The seasons have changed. It is the perfect weather for something slow cooked to warm us from the inside out. Not wanting to go out into the chilly air, I searched the freezer and pantry for an idea for our dinner.
I am finding that it isn't just the seasons that have changed. My tastes have, also. Sauerkraut was something that I always turned my nose up to when I was younger. Now, stirred together with some kielbasa and apples to slow cook in the crockpot all day, it seems like comfort food. Serve some buttered egg noodles and steamed green beans on the side, and dinner is a wholesome, warming experience perfect for the changing seasons.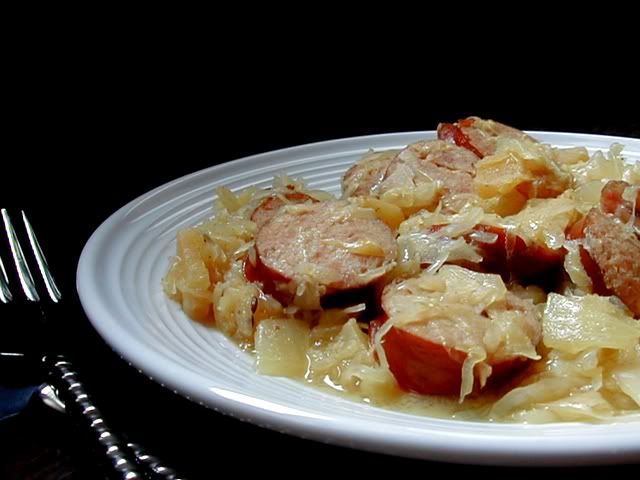 Apple and Sauerkraut Kielbasa
1 pound low-fat kielbasa, cut into chunks
2 medium apples, peeled and cut into small cubes
1 (14 ounce) can sauerkraut
1 medium onion, chopped
2 tablespoons spicy mustard
Mix everything into crockpot, adding a bit of water, if necessary.
Cook on high for 4-6 hours.