Some days just aren't for cooking. Some days, there are many other things that take priority and gobble up all of our time. But, we still have to eat. It seems that everyone leads busy lives, and the food markets have capitalized on this. Grocery stores are awash with
convenience food
items.
Fast food
is now a
norm
, and even
"higher end"
fast food chains have cashed in on take-out options. If you live in a place more populated than our
tiny, little town
, you can probably even just pick up the phone and call for dinner to be
delivered
. As awful as it may seem, there are days that I wish for this. Today is one of them.
Delivery doesn't really happen in a town of 300 people. Take-out is limited to burgers from the
pub
. Thank goodness for
Schwan's
frozen food delivery. That
big yellow truck
rolls up in front of my house every two weeks with a salesperson eager to fill my freezer with
frozen treats
and convenience foods. While my current favorite item is the
Autumn Treat
(pumpkin) ice cream, I do sneak a few other items in for those days when I don't have time or even when I just don't want to cook.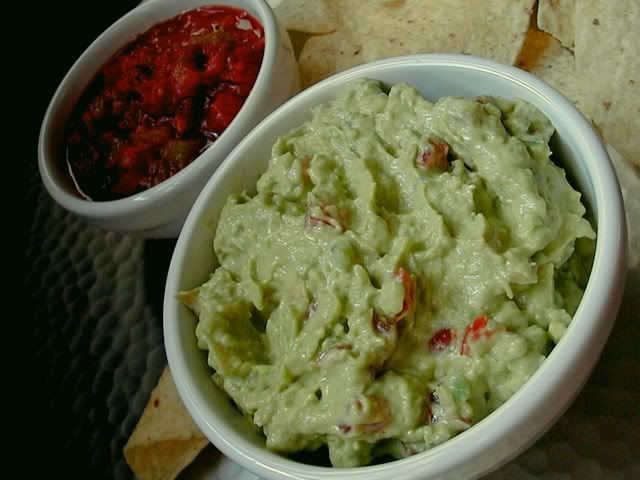 Tonight, our dinner table will host a frozen
Mexican Style Pizza
served with homemade
Guacamole
. The pizza sauce is zesty with spice; the cornmeal crust is crispy; and the cheddar cheese is gooey. Creamy guacamole is a perfect pairing for it. There are many versions of avocado dips around. Mine is really never the same twice, as I don't measure and just mash, mix, and stir according to taste. I know that true Mexican food enthusiasts will be shocked at the addition of mayonnaise, but it really does help add a creamy texture and to preserve the green of the avocado when it is made in advance. With or without mayo, guacamole is one of my favorite guilty obsessions. I don't even need the pizza, with or without delivery.
My Guacamole
2 avocados, peeled and pitted
the juice of a lime
1 clove garlic, minced
1 small tomato, diced
1 small jalapeno, finely diced
½ cup onion, diced
½ teaspoon ground cumin
sea salt
cayenne pepper
1 tablespoon mayonnaise
Mash the avocado with a potato masher.
Using a fork, whisk in the remaining ingredients (or you can do it in the food processor for an even silkier texture). Let stand at room temperature for 15 minutes for flavors to blend.