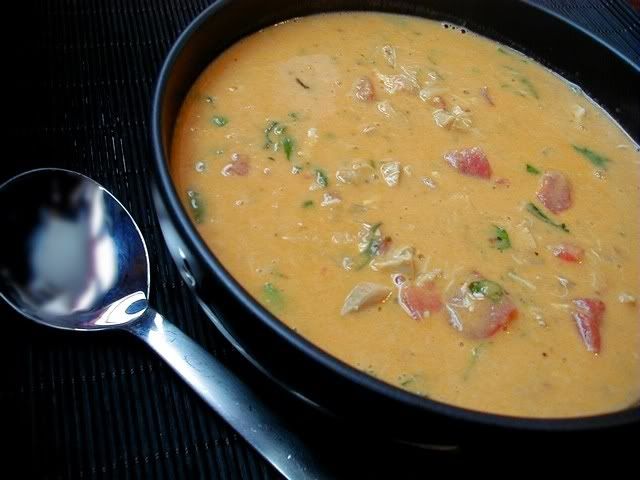 For quite awhile, friends have been encouraging me to try a new soup recipe. They were sure that I would like its robust
curry
flavors. They knew that it was so easy that I could make it even on nights that I felt
dog tired
. They had added it to their own quick and easy menu rotations and savored it frequently. I kept putting them off. I wasn't in the mood for soup. I didn't have all of the ingredients on hand. I didn't know if Hubby would be thrilled with the combination of flavors. I had a million excuses...until last night. Last night, I finally made
Senegalese Chicken and Peanut Soup
. I had leftovers of a
rotisserie chicken
on hand, and all of the other ingredients in my pantry. The weather was
cold and snowy
, yet again. It was a perfect night for a spicy soup.
We loved it. The blend of curries develop an excellent depth of flavor in this soup. The peanut flavor is distinct, but works as a subtle background for the heat. It is
GOOD
soup. But, it reminded me of something. While I was preparing the soup, the aroma brought back a memory that just perched
out of reach in my mind
. During dinner, Hubby and I discussed how much we liked the soup, and the flavor just seemed so familiar to me. Today, when I reheated leftovers for my lunch and
snapped a photo
of the new soup recipe,
it hit me
. I knew why I was sensing deja vu with this soup. I have a very similar recipe in my own collection.
I had found the recipe for
Curried Peanut and Tomato Soup
in last February's issue of
Gourmet magazine
. I fell in love with the simple soup and made it frequently for my own lunches during cold weather. When the weather warmed, the recipe was filed deep in the recesses of my mind. It took more cold weather, friends urging me to try a similar recipe, and nearly identical photos for me to blow the cobwebs from my memory and shake the feeling of deja vu.
Both
soups
are
absolutely delicious
. The recipe from Gourmet does use fewer ingredients, and the seasonings are probably more common to most pantries. Chicken could be added, too. But, don't overlook the Senegalese Chicken and Peanut Soup. Its wonderful flavor is worth the little bit of extra effort. I couldn't have thought of a better way to experience
deja vu all over again
.
Senegalese Chicken and Peanut Soup
1 large onion, diced
2 garlic cloves, minced
¼ teaspoon cayenne
2 tablespoons vegetable oil
½ cup curry powder
1 tablespoon yellow curry paste
1 quart chicken stock
1 quart diced tomatoes with juice
4 cups cooked chicken, diced
¾ teaspoon sambal oelek chili paste (red chile paste)
1 cup chunky peanut butter
1 (14 ounce) can coconut milk
1 bunch cilantro, chopped
the juice of 1 small lemon, to taste
Saute onion, garlic and cayenne in oil until onion is translucent.
Stir in curry powder and curry paste; saute 1 minute.
Add chicken stock and tomatoes in juice; bring to a boil, then simmer for 15 minutes.
Add cooked chicken and sambal; simmer for 10 minutes.
Whisk in peanut butter a little at a time until incorporated; add coconut milk and stir to incorporate.
Turn soup to low and add cilantro and lemon juice to brighten the taste; check seasoning. (Serves 6)
Curried Peanut and Tomato Soup
1 medium onion, chopped
¼ teaspoon salt
1/8 teaspoon black pepper
2 tablespoons vegetable oil
2 teaspoons curry powder (preferably Madras)
1 (14 ounce) can petite diced tomatoes with juice
1 ¾ cups reduced-sodium chicken broth
1 cup hot water
¼ cup smooth peanut butter
2 tablespoons fresh cilantro, chopped
Cook onion, salt, and pepper in oil in a 2 to 3 quart heavy sauce pan over moderate hear, stirring occasionally, until softened, 4 to 5 minutes.
Add curry powder and cook, stirring frequently, 2 minutes.
Add tomatoes (with their juice) and broth and simmer, uncovered, 5 minutes.
Stir hot water into peanut butter until smooth and add to soup.
Simmer, uncovered, stirring occasionally, 5 minutes.
Stir in cilantro before serving. (Serves 4)