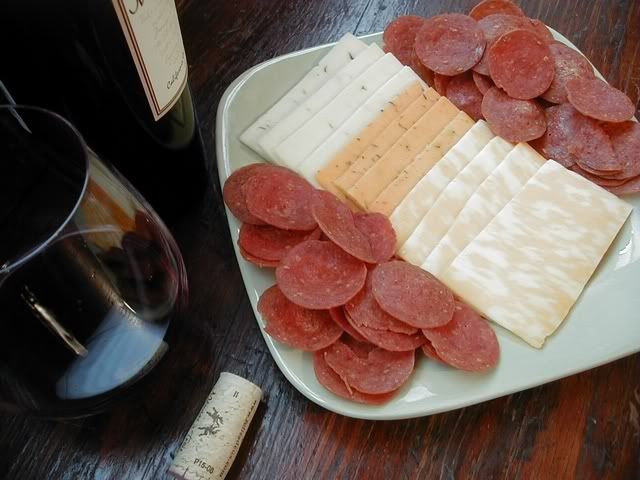 I am home alone tonight as Hubby is out of town. Sometimes when he is away, I will cook up a storm and try recipes that I don't think that he would enjoy. However, tonight I am tired. Dinner, if you can call it that, is going to be simple and easy, with the emphasis on the easy. I have leftover
Pepperoni Chips
from the cheese tray from Saturday night's get-together, and I think that this will serve just fine. Add a little cheese, crackers, and wine and my meal is complete.
Pepperoni Chips are a simple, little, crispy snack that are great on their own or served in combination with cheese and crackers. Try them with a glass of wine, but they are just as tasty with a cold beer. I original found the recipe in an email from World Wide Recipes, and have made them many times since. Imagine the crispy crunchy bits of pepperoni on top of your favorite pizza. That is a Pepperoni Chip. Yum!
Pepperoni Chips
1 (8 ounce) package pepperoni, thin sliced
Preheat oven to 350°F.
Place the pepperoni slices in a single layer on a baking sheet.
Bake until crispy, about 10 to 15 minutes.
Transfer to paper towels to absorb the fat and cool to room temperature.
Will keep for several days at room temperature. (8 servings)
Now that you know what is on my plate, are you interested to know what is in my glass? I am currently a fan of Menage a Trios California Red Table Wine by Folie a Deux. This is a blend of Zinfandel, Merlot, and Cabernet Franc. I am not a true wine connoisseur, and don't have the vocabulary to describe the flavor, bouquet and complexity of a wine, but I do know what I like, and I like this. It was discovered while having lunch with a friend at the Derby Cafe in Chamberlain. We had some fun laughs and giggles over the name, and the wine was not a disappointment. Hubby's joke is that the Menage a Trios part of it is that I could drink 3 bottles, if I let myself. He is quite the comedian, isn't he? Regardless, the wine is inexpensive, but good. Three bottles wouldn't break the bank, if I were so inclined. ;)
I am really enjoying savoring it in my new Stemless Wine Glasses. With 2 wild puppies and my own klutzy self running around, the stability of a stemless glass is genius. Mine aren't the Pottery Barn version, though. They were a gift from a friend, and purchased at Target. I love Target. It has the best things at great prices.