Hubby and I love
Napoleon Dynamite
. We think that it is an odd, quirky, and hysterically funny movie.
Napoleon
is
dynamite, and we would absolutely "
Vote for Pedro
." However, I don't share Napoleon's love of
tater tots
. There is something about the texture of those little potato nuggets that just doesn't do it for me. Usually when Hubby gets a craving for
tater tot casserole
, I make it and just count that as a diet night for me as I pick at the meal on my plate. Tonight, I think I found a
flippin' sweet
solution to my tater tot aversion.
Cheeseburger and Fries Casserole
starts with the same ground beef and
canned soup
base as a tater tot casserole, but skips the green beans in favor of a cheesy layer and ends with
French Fries
on top. It won't win any awards as a culinary work of art, nutritional masterpiece, or gourmet food find, but served with some steamed green beans and a salad, it is a solid meal for a busy week night (and picky people who don't like tots).
Gosh!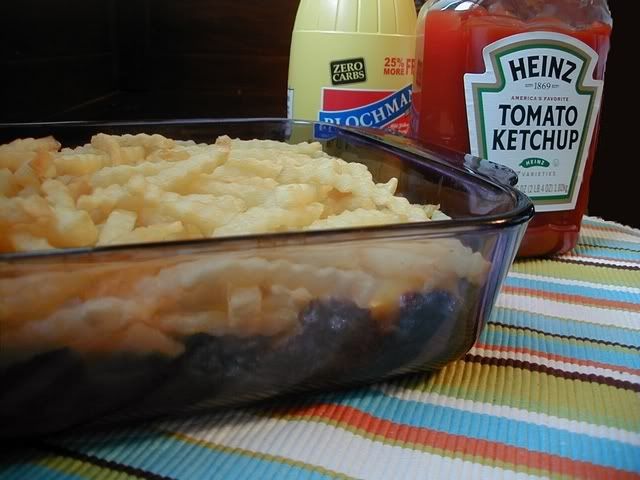 Cheeseburger and Fries Casserole
1 pound lean ground beef
1 small onion, chopped
½ teaspoon garlic powder
½ teaspoon black pepper
½ teaspoon salt
1 (10.5 ounce) can cream of mushroom soup
½ (10.5 ounce) can cheddar cheese soup
1 pound frozen French fries
Brown the ground beef with the onion, garlic powder, pepper and salt.
Mix in the cream of mushroom soup.
Place meat mixture in a casserole dish.
Top with half of the can of cheddar cheese soup (may use more, if desired).
Top with French fries.
Bake at 400 for 15 to 20 minutes or until the french fries are golden brown and the casserole is heated through.
Great served with ketchup and mustard drizzled on top. (Serves 6)