Why is it that everything has to happen all at once and nothing is ever easy? I can be living my
dull, little life
, bored out of my mind, and suddenly everything needs to be done NOW, everyone needs my attention NOW, and nothing can wait until later; it is all about
NOW
. I have been hit. It is one of those NOW times for me.
Kung Pow!
I know that it will all work out and nothing that is hitting me is really life-threatening, but in the meantime, I am sure that I will fight back more than a few
tears of frustration
, re-design and re-plan several events and situations, and wish for a
BIG bottle of wine
. True to my usually fiesty nature, I will throw some of my own Kung Pow back at the forces that work against me, and deal with what happens as best I can.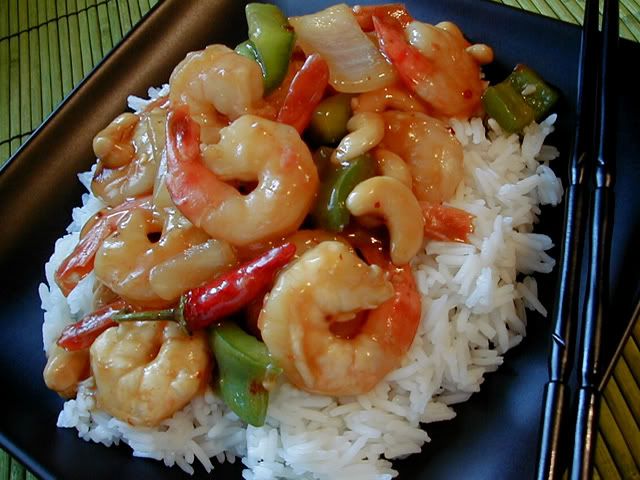 I also plan on tossing some Kung Pao on my plate this weekend. Hubby's
birthday
was earlier this week, and we are planning to celebrate on Saturday with a Chinese Buffet. I am looking at a menu of
Pepper Steak
,
Sesame Chicken
, Kung Pao Shrimp, steamed and
Fried Rice
,
Egg Rolls
,
Crab Rangoon
, and a few other things, if time permits. My
Kung Pao Shrimp
is spicy with the heat of chiles coating the succulent shrimp. It is a favorite with Hubby, and I hope that everyone who dares to sample it at the party enjoys
the kick
of this flavorful dish.
Kung Pao Shrimp

¼ cup fresh orange juice
3 tablespoons red wine vinegar
1 ½ tablespoons soy sauce
1 tablespoon sugar
1 ½ teaspoons cornstarch
2 tablespoons vegetable oil
8 small dried red chilies, 4 halved
½ teaspoon salt
1 small onion, cut into 1 inch pieces
1 ½ teaspoons minced fresh ginger
2 cloves garlic, minced
½ red bell pepper, cut into 1 inch pieces
½ green bell pepper cut into 1 inch pieces
1 lb large shrimp, shelled and deveined
1 cup roasted cashews
½ teaspoon sesame oil
In a bowl, mix the orange juice, vinegar, soy sauce, sugar and cornstarch.
In a wok or large frypan, heat the oil over high heat until smoking.
Add the chiles and salt; stir-fry until browned, 45 seconds.
Add the onion, ginger and garlic; stir-fry until fragrant, 15 seconds.
Add the peppers and cook until crisp-tender, 30 seconds.
Add the shrimp and stir-fry until nearly cooked through, about 5 minutes.
Stir the sauce, add to the wok and cook until thickened slightly, 30 seconds.
Stir in the cashews and sesame oil. (Serves 4)
If you are around the neighborhood, drop by on Saturday night. I am sure that there will be more than enough food. :~) Come throw a little Kung Pao on YOUR plate and wish Hubby a Happy Birthday.