Sizzling can be a warm and comforting sound when it is coming from a pan of bacon. But, when it is your desk lamp that is sizzling, sparking, and smoking, there is no comfort. Yesterday, as I was sitting at my desk, surfing the web, and working on a project, the light bulb in my desk lamp burned out. The darkness in my already dim (although, I like to think of it as cozy) office was tolerable, and I continued to work while making a mental note to grab a new light bulb when I made my next trip to the basement storage area.
Suddenly, I had 4th of July fireworks sparking at me, and the stench of burn electric components filled the air. The burned out light bulb was frying in the lamp. Quickly, I ducked under the desk and unplugged it. Free from the electrical source, the almost fire quickly died out. Although the putrid smokey smell still hangs in the air, I am glad that it is the only casualty (other than the lamp which has since been deposited into the dumpster). If I had been at work instead of hanging out at home today, I could have come home to a charred office...or no
home
at all.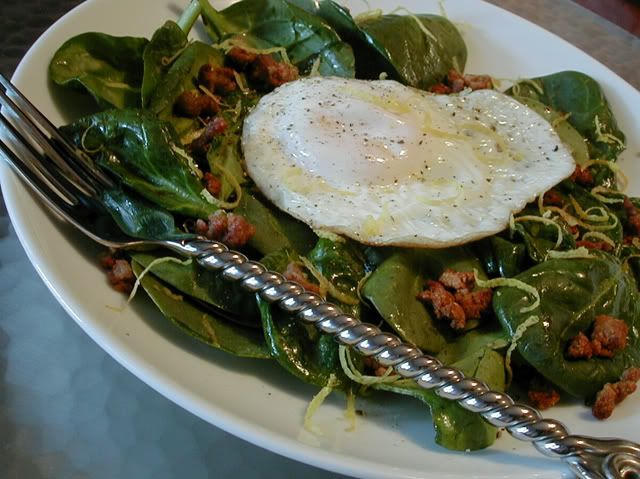 Frying light bulbs have not turned me off of frying in the kitchen, though. Today's lunch is a salad that I gleaned from an issue of
Every Day with Rachel Ray
. I had never had a salad topped with a fried egg before this, but have fallen in love with this combination of flavors. I am a poached egg lover, and prepare my egg with a runny yolk to form a rich dressing for the greens. However, if you are leery of fried things or don't care for runny yolks, scrambled or boiled eggs would work just as well to top this fresh lemony salad. Be sure to break the sausage up into little pieces and fry until crisp...almost like little sausage versions of bacon bits. The sizzle and snap of frying can be a good thing, when it lands on my plate.
Warm Spinach and Sausage Salad
12 ounces bulk pork sausage
2 ½ tablespoons olive oil
1 teaspoon lemon zest, grated
1 ½ tablespoons fresh lemon juice
6 ounces baby spinach
coarse salt
fresh ground black pepper
4 large eggs

In a large nonstick skillet, cook the sausage over medium heat, breaking it up with a wooden spoon, until crumbly and crisp, about 10 minutes.
Remove the sausage to a bowl with a slotted spoon and return the skillet to the stove.
Add the olive oil, zest and juice to the pan and, over medium-high heat, stir the mixture with a wooden spoon, scraping up any brown bits, for about 1 minute.
Remove pan from the heat.
Add the spinach and use tongs to coat the leaves with the dressing.
Sprinkle the salad generously with salt and pepper.
Divide the spinach evenly among 4 bowls and top with the crumbled sausage.
Wipe the nonstick skillet clean with a paper towel and fry each egg over easy.
Top each salad with a fried egg and serve. (Serves 4)