Sometimes, I feel like a
salmon
. I have this huge list of things that I need and want to do, and time is always limited. I am swimming upstream against the clock and calendar. I want to repaint my kitchen before
Thanksgiving
. I need to put in some more time at the office and wrap up some files. I need to organize a few piles of clutter that I have allowed to build up. I need to get back outside and finish the fill work around the
new sidewalk
and seed the grass. I want to join Hubby on one of his out of town trips to complete a few errands and actually spend a little time with him. I need to keep up with all of the daily tasks of laundry, housework, farm bookwork, etc. I want a nap. I am fighting my way through waves of chores, duties and desires, and headway is slow. Each day is over before I reach shore.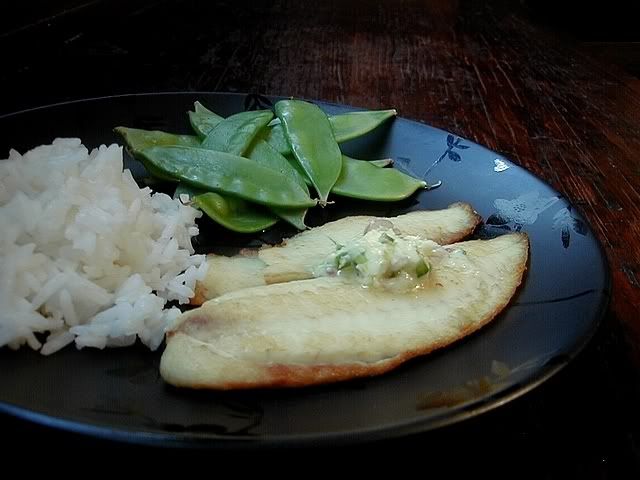 Even as I struggle against the rapids of obligation, my food obsession usually demands that I take time to prepare something tasty to savor each day. With my mind in the water, I decided that fish would be an excellent addition to today's menu.
Tilapia with Chile Lime Butter
is a outstanding dish that even my usually anti-citrus hubby likes. The lime adds a fresh bright punch to the pan-seared fish, but the heat of the chiles really make your mouth sing. Add some rice and a steamed vegetable, and the meal is complete giving me enough time to try to conquer another of those chores.
Tilapia with Chile Lime Butter
For Chile Lime Butter:
¼ cup unsalted butter, softened
1 tablespoon finely chopped shallots
1 teaspoon finely grated fresh lime zest
2 teaspoons fresh lime juice
1 teaspoon minced fresh Serrano chilies
½ teaspoon salt

For Fish:
6 skinless tilapia fillets
½ teaspoon salt, to taste
2 tablespoons vegetable oil

Combine softened butter with shallot, zest, lime juice, chile, and salt in a bowl to make chile lime butter.
Pat fish dry and sprinkle with salt.
Heat 1 tablespoon oil in a 12-inch nonstick skillet over moderately high heat until just smoking.
Saute 3 pieces of fish, using a spatula to turn once, until golden and just cooked through, 2 to 5 minutes, depending on thickness of fillets.
Transfer to a plate and saute remaining fish in same manner.
Serve each piece of fish with a dollop of chile lime butter. (Serves 6)