I have had a
headache
all day. My tummy has also been doing a bit of grumbling. Functioning hasn't been an easy task. Showering and trying to behave like a human instead of a huge piece of lint on the sofa required that I give myself a pep talk. I went to work for awhile this afternoon, but my plans to head back after dinner were foiled when a quick minute of shut-eye turned into an evening of being dead to the world. Thankfully, the nap helped. The pounding in my head has gone down a couple of decibels.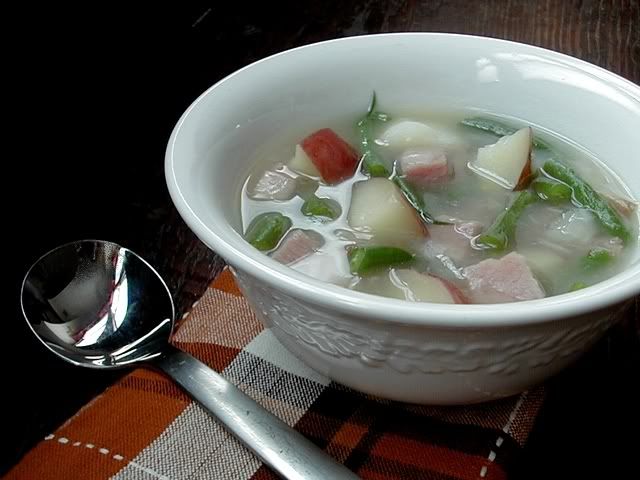 I had no interest in food all day, but one does have to eat. Hubby can and will cook, but it is nice when I have something ready when he comes home after his own long day. We seem to have been eating a lot of soup lately, but a mild brothy soup of new potatoes, fresh green beans, and ham was just what I needed. It was warm, soothing, and simple. Hubby could perk his servings up with some
hot sauce
or lots of pepper. I could savor the gentle broth just as prepared before slumping back into the sofa to baby my aching head.
Green Bean and New Potato Soup
1 pound fresh green beans, washed and snapped
1 pound new potatoes (or 3 large baking potatoes)
½ onion, diced
1 ham steak, fat removed and cut into bite-sized pieces
1 quart, more or less, low sodium chicken broth
¼ teaspoon pepper
2 tablespoons cornstarch
½ cup water
Clean and cut up all the ingredients.
Place the potatoes, onion, and ham in soup pot.
Add the chicken stock and enough water so there is an inch of fluid above the vegetables.
Bring to a boil, then reduce the heat to medium and cook for 20 minutes.
Turn the heat down to low and add the green beans; simmer till the green beans are tender.
Add a little more broth or water if this gets too dry.
Combine the cornstarch and water and add to the soup to thicken. (Serves 6)