Hubby loves a good burger. I could take it or leave it. Once in a great while, I will crave a juicy, grilled burger loaded with bacon, cheese, lettuce and tomato, but usually, I would rather have almost anything else. Perhaps, this is due to the
hockey pucks
that I was served as a child. My father only ate things that were cooked to death; my mother accommodated his preferences. Back then, I preferred to have a little burger with my
serving of ketchup
or Miracle Whip...as little burger, as possible. (I should add that I don't even eat
Miracle Whip
now that cremated meat is no longer on my plate.)
But, Hubby's cries of
"Where's the Beef?"
have forced me to reconsider burgers. I have tried many recipes and techniques. Burgers have become an evolution for me as I persist with my experiments to develop one that makes me cry for the beef. Last night, Hubby dropped a not-to-subtle hint of his desire for a burger by bringing home hamburger buns. Therefore, tonight's dinner continues the burger quest.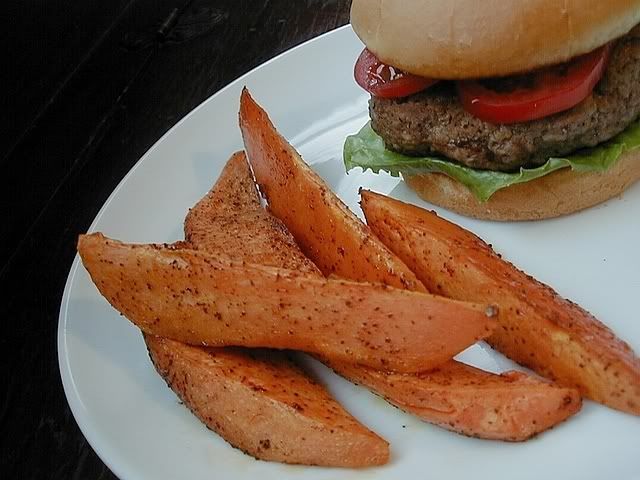 Of course, there has to be a side with the burger. Hubby would be happy with just a huge slab of fried beef on a toasted bun, but until I develop a hunger for burgers, I need a good side dish. Fries seem like the natural choice, and
Chili Roasted Sweet Potato Wedges
are a fabulous option. Sweet potatoes have their own natural sweetness that is enhanced by the roasting and chili powder seasoning. The salt and bit of sugar really make the other flavors pop.
Ketchup
isn't even necessary. Hubby gets his burger, and I get luscious sweet potato fries. The beef is on my plate.
Chili Roasted Sweet Potato Wedges
2-3 medium sweet potatoes
2 tablespoons olive oil
1 tablespoon sugar
1 teaspoon chili powder
1 teaspoon kosher salt
¼ teaspoon fresh ground pepper
Preheat oven to 425°. Cut each peeled potato lengthwise into 8 wedges.
Line a large rimmed baking sheet with parchment paper or foil.
Toss potatoes with oil, sugar, chili powder, salt, and ground pepper, until coated.
Place sweet potatoes, cut sides down, on baking sheet.
Roast potatoes until browned and tender, 15 to 20 minutes. Season with additional salt, if desired, before serving. (Serves 4)