Hubby and I often join another couple to play a card game called
Hand and Foot
. The guys pair off against the women and usually win. The only explanation that I have for their constant good luck is that the guys seem to be pushing bad
Feng Shui
onto us. We (the women) are usually forced to sit with our backs to the doors while playing out
our hands
at the kitchen table. I haven't done an in depth study of Feng Shui, but isn't this considered a no-no? Doesn't this allow the bad vibes to sneak up on us? The one time that the guys switched places with us and sat with their backs to the doors, they lost. This has to be proof, right? ;~) The guys don't believe us. They just revel in their wins and gloat.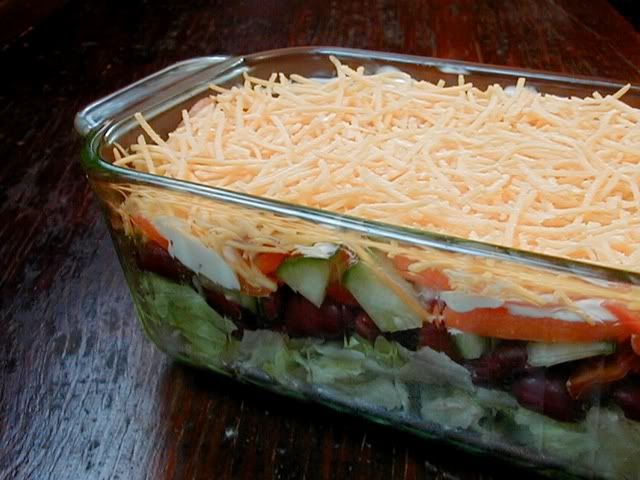 Tonight, our game was no different. Following a meal of
take-out pizza
and
cake
to celebrate our friends' daughter's
birthday
, the women again lost miserably in the card game. :~( We did attempt to achieve balance and harmony with the meal, though. I prepared a
Seven-Layer Salad
to balance with the pizzas. In harmony with the likes and dislikes of the children of the house, I omitted the
onions
and
peas
that are usual standards for
layered salads
. I searched out another
Cooking Light
recipe that included
kidney beans
instead of the peas and added prepared
Ranch dressing
to the topping instead of the normal sugary
mayonnaise
mixture. No bad vibes could sneak up on this salad, but I wish that it would have attracted better
luck
for my cards.
Cooking Light's Seven-Layer Salad
6 cups iceberg lettuce, torn
1 (15 ounce) can kidney beans, rinsed and drained
2 cups tomatoes, diced
1 cup cucumbers, diced
1 cup carrots, shredded
½ cup nonfat sour cream
½ cup low-fat Ranch dressing
½ cup reduced-fat sharp cheddar cheese, shredded
Layer lettuce, beans, tomatoes, cucumbers, and carrots in that order in a large bowl.
Combine sour cream and ranch dressing.
Spread dressing mixture over carrot layer.
Top with shredded cheddar cheese.
Cover and chill. (Serves 6)