I prefer sour to sweet.
Chocolate
is awesome and satisfies a certain type of craving, but most days I want the crisp, tart flavors that make my taste buds pucker. Cranberries are one of my favorite Fall offerings. As a child, the jellied,
canned cranberry sauce
on the Thanksgiving and Christmas tables was something that I always looked forward to enjoying with my turkey. I have been making the
Cranberry Dessert Cake
that I featured earlier all of my adult life, and recently tried a Cranberry Apple Pie that was superb. These little tangy berries (fresh, frozen and dried) have found their way into relishes, salads, bread stuffings, and trail mixes, in addition to many, many desserts. I love to pucker up.
This morning's breakfast provided that perfect pucker. The cranberries are macerated in a sugar syrup and combined with juicy grapefruit. This is a tart lover's paradise and a crisp and flavorful way to start the day. The cranberry syrup can be made ahead and stored in the fridge. You can also use the the grapefruit that is already
peeled and sectioned in jars
from your produce department, if you need a time saver. If you like tangy, but slightly sweet treats, you should try a
Cranberry Grapefruit Cup
.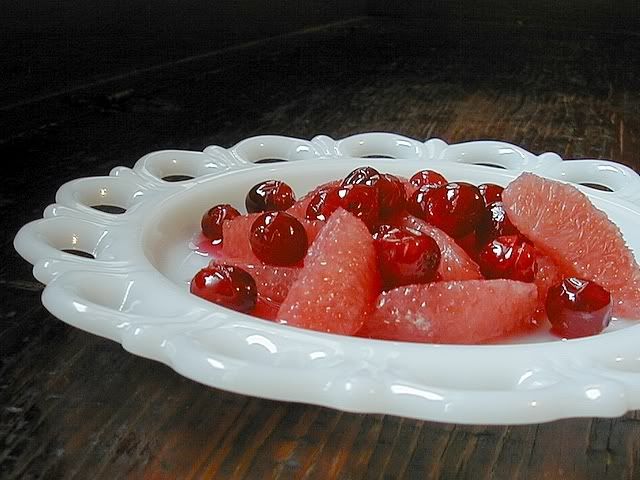 Cranberry Grapefruit Cup
1 cup sugar
2 cups cranberries
3 grapefruits, peeled and sectioned
1 cup water
In a saucepan, combine sugar and water; boil; stir to dissolve sugar.
Boil for 5 minutes.
Add cranberries; cook until skins pop, about 5 minutes more.
Remove from heat; chill.
Pour cranberry mixture over grapefruit sections in individual servings bowls. (Serves 6)