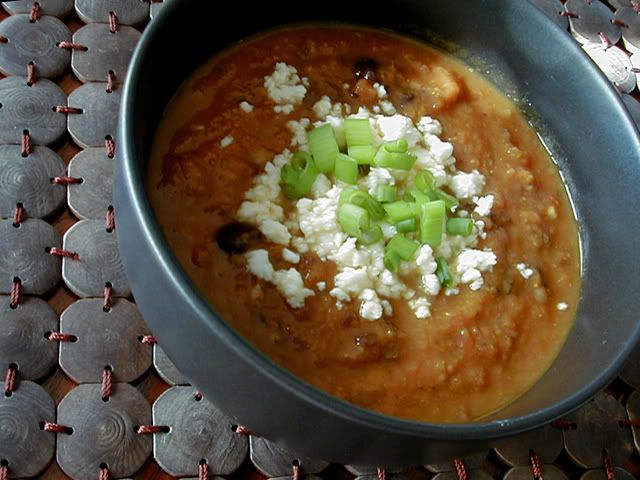 Today, it isn't on my plate, but in my bowl. I hosted a get-together last evening and served 4 different types of soup along with some snacky nibbles, and a couple of desserts. Today, I am savoring one of the leftovers,
Pumpkin Black Bean Soup
. It is even better on the second day.
Originally from Cooking Light, I have modified this soup slightly to suit ingredients that I usually have on hand. I love the smokey flavor that the cumin brings to the soup.
1/2 cups canned tomatoes, petite diced, drained
2 (15 ounce) cans black beans, drained and rinsed
1 teaspoon olive oil cooking spray
1 1/2 cups onions, finely chopped
2 teaspoons ground cumin
3 garlic cloves, minced
3 cups chicken broth
1 teaspoon fresh ground black pepper
1/2 teaspoon salt
1 (15 ounce) can pumpkin puree
1 cup queso fresco, crumbled
1/2 cup green onions, sliced
pumpkin seeds (optional)
Place tomatoes and beans in a food processor, process until about half of the beans are smooth. Set aside.
Heat oil in a Dutch oven coated with cooking spray over medium-high heat. Add onion to pan, sauté 5 minutes or until lightly browned. Add cumin and garlic; sauté 1 minute. Add bean mixture, broth, and next ingredients (through pumpkin); bring to a boil.
Ladle about 1 cup of soup into each of 6 bowls; sprinkle each serving with about 2 tablespoons queso fresco and about 1 tablespoon green onions. Garnish with pumpkin seed kernels, if desired. (Serves 6)