I had planned to put together my full Thanksgiving menu along with hints, tips, and whatever else popped into my mind as I
typed
. However, between an out of control
painting project
that dominated my time until the morning of Thanksgiving, the actual
preparations
and cooking, and a
tempermental computer system
, I haven't accomplished that. I think it is time to let go of those good intentions. It just isn't going to happen.
Instead, I find myself coming back to
green
. I seem to have an obsession, huh? I have said before that I try to include a lot of green vegetables in our diet. Hubby likes to give me a hard time about this sometimes. He likes his veggies, but wouldn't complain if I just served him
the steak
without a salad. Thanksgiving was no exception. I wanted to include a
Pureed Broccoli
dish on our Thanksgiving table. In spite of Hubby's dislike of mashed foods, the leeks and bit of potato in this do appeal to him. He would prefer his broccoli be served with a cheese sauce, but he usually doesn't give me a lot of grief over this pureed sidedish.
After a very short night (up until
5:30am
to finish painting project and cleaning and awake at
7:30am
to get the turkey ready and bake the pies), I was very happy that things were going smoothly, and everything was ready when our guests arrived at 1pm. The turkey was moist and roasted to perfection; the mashed potatoes were creamy; the gravy was lump-free; all of the sidedishes came together without a hitch, and the pie crusts were flaky (thank heavens for
Pillsbury
). My mother had brought a
ham
for my anti-poultry father, and the table was sagging under the load of our Thanksgiving feast.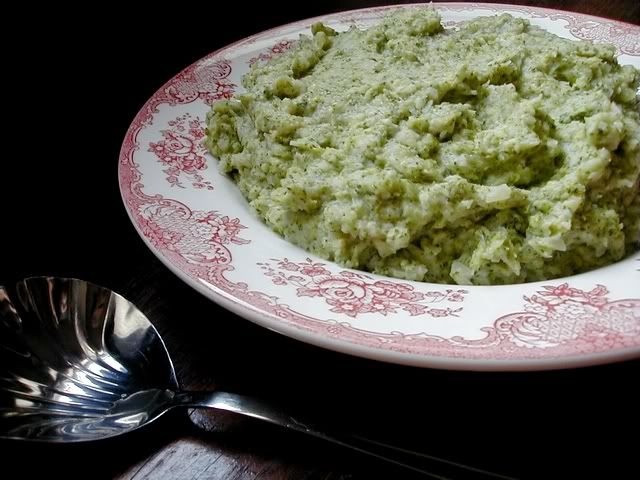 As we were passing the dishes around the table, Hubby nudged me and pointed to the scoops of both pureed broccoli and peas in butter sauce that he had just served himself. "There is too much green on my plate," he announced. His next act was to gobble up the Pureed Broccoli to make room on his plate for more dressing (or do you call it stuffing?). I had to laugh because I did notice when he had seconds of the broccoli a little later. :~)
Pureed Broccoli
4 ½ tablespoons butter
5 cups halved and thinly sliced leeks, white and pale green parts only
2 large russet potatoes, peeled and quartered
1 pound broccoli, separated into florets and stems (peel the woody skin from the stems)
6 tablespoons whipping cream
1 tablespoon fresh dill
Melt butter in a large skillet over medium heat.
Stir in leeks.
Cover and stir often until leeks are very soft (about 15 minutes).
Cook potato in salted water until almost done (about 15 minutes).
To potato and water, add broccoli stems (5 minutes) and then florets (5 minutes) or until tender.
Drain well and transfer to food processor.
Add leeks to the food processor and puree all.
Return puree to skillet and add cream, dill, salt and pepper.
Blend well and serve.