A White Bean and Artichoke Soup recipe has been floating back and forth from my desk to the kitchen, in and out of my "to try" folder, tempting and taunting me. It is the kind of simple recipe that I make for myself for lunch and savor small bowls full each day until it's gone. Given that my recent lunches have consisted of toast and honey, I decided that today was a good time to whip up a pot of soup for some real nourishment.
Onions sauteing in olive oil create a heavenly aroma, adding flavorful ingredients such as artichokes, roasted red peppers, and garlic make it even better when simmered in broth with simple white beans. I didn't use the Cannellini beans that seem to be scarce on my grocer's shelves. Since it is a blended soup, I thought that the softer texture of Great Northern beans would be fine; and, they were.
But, blending the soup is when I wondered at the wisdom of choosing this recipe today. I am just recently recovered from the flu, and when I first placed the immersion blender into the pot and created a swirl of foamy, creamy soup, I had to look away. The appearance wasn't that appetizing. It reminded me too much of somethings that I probably shouldn't mention in a food blog. Still, the aroma of the mingled ingredients won me over, and a tentative spoonful made me reach for my bowl and the soup ladle. It is fragrant, and flavorful, and filling, and...I just won't look at it right now.
I will just close my eyes and eat
White Bean and Artichoke Soup
On My Plate
.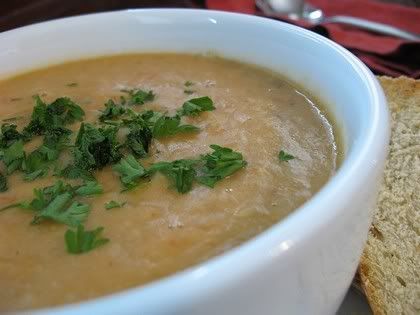 White Bean and Artichoke Soup

1 tablespoon olive oil
1/2 medium onion, chopped
1 (13 ounce) jar artichoke hearts, chopped
1 roasted red pepper, chopped
4 garlic cloves, minced
2 sage leaves, chopped
2 cups vegetable broth
2 cups small white beans (canned or cooked)
juice of a small lemon
salt and black pepper

In a stockpot, saute onion in the olive oil until translucent (approx. 3-5 minutes).
Add the artichoke hearts, garlic, roasted red pepper, and sage. Stir for 1 minute.
Add the vegetable broth and beans. Bring to a boil.
Reduce heat and simmer for five minutes or until the beans are heated through. In batches, transfer soup to a blender and puree until smooth, or use an immersion blender right in the pot.
Add soup back to stockpot and stir in lemon juice. Adjust the salt and pepper to taste. (Serves 6)