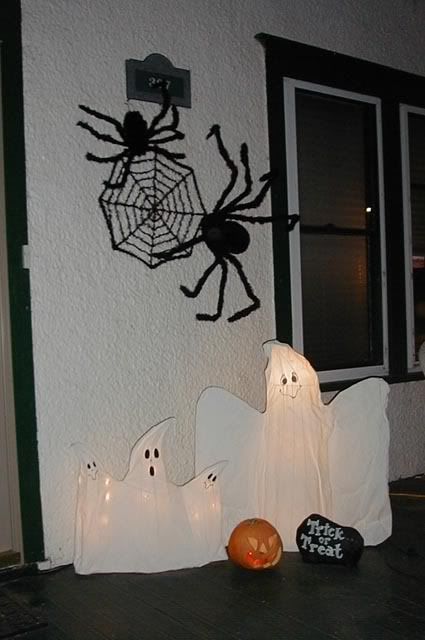 Happy Halloween! It is a crisp, cool and sunny day and seems like perfect weather for Trick or Treating. I enjoy spoiling the little goblins that come to my door, and have a huge bucket of candy ready. This year, I also picked up little mini bags of microwave popcorn and tiny little containers of Playdoh. Usually, I pass out Halloween pencils, but didn't find any that I really liked for this year.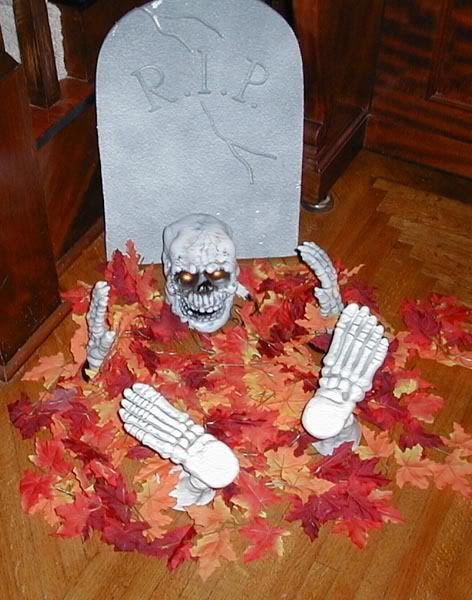 With our front yard projects still majorly under construction, it seemed fitting to do a graveyard with tombstones and skeletons in the bare dirt. But, as usual, our winds are preventing this. I still have my fun ghosts on the front porch, though. I even plopped my creepy dancing skeleton beside the piano again. The kids all love the way I dress up my spooky old house for Halloween.
My biggest concern about the night will be the pups. Hubby has to be away, and I will be alone while they go berzerk each time the door bell rings. I think that I will have to use the puppy gate to lock them in the kitchen. They will still bark their fool heads off, but I won't have to worry about either of them slipping out the open door, snapping at an overeager Trick or Treater, or licking someone to death.
Dinner tonight will once again be leftover soup. We will enjoy the last of the leftover Chicken Tortilla Soup. I promise to make a real meal tomorrow, but just don't want to deal with cooking around all of the other madness tonight. We will also have leftover Deluxe Corn Muffins with the soup. Actually, the soup gets better with time. It's true spiciness comes out after sitting overnight.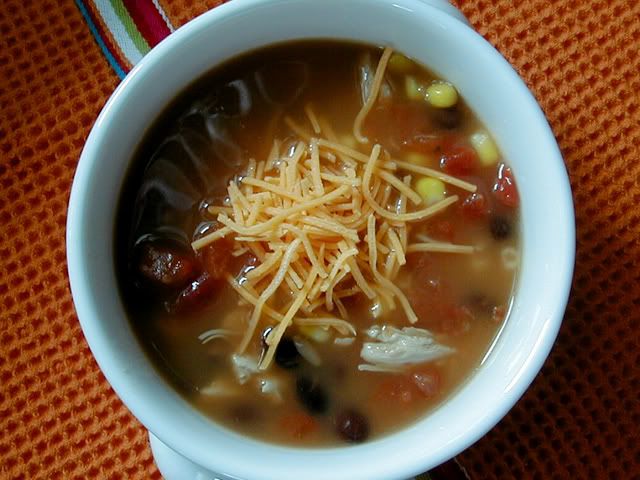 Chicken Tortilla Soup is a recipe that has evolved from another that I found online. It is still basically the same soup, but tweaked a bit to suit our tastes. The Deluxe Corn Muffins are so simple and start with a mix, but I haven't found anyone who didn't like them. Of course, they are sweet corn muffins, and I have heard that true southerners don't do sweet cornbread. But, that is another debate, entirely, right?

Chicken Tortilla Soup
1 cup frozen corn
2 (14.5 ounce) cans chicken broth
1 tablespoon chopped garlic
1 (4 ounce) can of diced green chilies
2 chicken breasts, cooked and chopped (I grill with Montreal Seasoning)
1 (15 ounce) can black beans, rinsed and drained
1 (10 ounce) can diced tomatoes with green chilies
1 teaspoon fresh round black pepper
1/8 teaspoon (or a dash to taste) cayenne pepper
Combine all the ingredients and simmer for 15-20 minutes until heated through. Serve with crushed tortilla chips and shredded cheese on top. (Serves 4)
Deluxe Corn Muffins
2 (7.5 ounce) packages Jiffy Corn Muffin Mix
1 (14 ounce) can creamed corn
½ cup milk
2 eggs, lightly beaten
1 cup grated cheddar cheese
Combine muffin mixes with corn, milk, and eggs. Stir in grated cheese.
Fill greased muffin tins 3/4 full. Bake in a preheated 400 oven for 20 minutes or until a tester comes out clean. (12 servings)