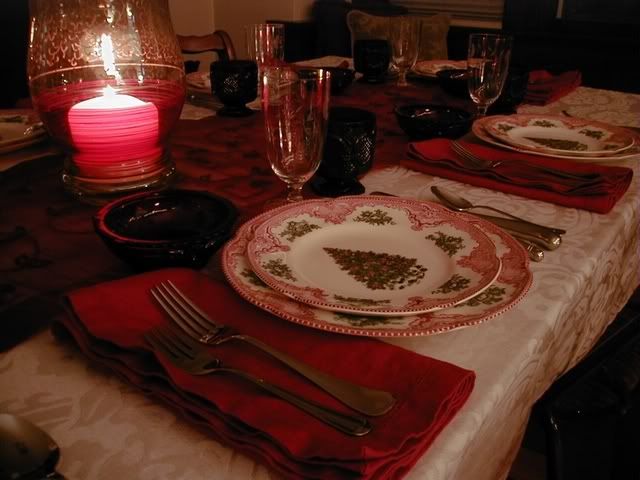 I ALWAYS do a
turkey
for Christmas dinner. Turkey, dressing and all of the fixings are such a no-brainer meal for me. Everything can be the same year after year, or I can mix it up with some slight variations of standard recipes. This year, I was on a roll with shaking up my traditional menus. I decided to serve
prime rib
for Christmas dinner.

Two of Hubby's sisters, their husbands, and my in-laws joined us at our Christmas dinner table for a meal that they claim was fit for a
king
. I have only prepared prime rib 3 other times, and one of those times I miserably overcooked it. It is a simple main dish, but requires a good
meat thermometer
and some steady attention to pull the roast from the oven at the right time. This time, I succeeded in producing a perfect medium rare prime that could be cut with a fork. Prime time was on my plate.
SALADS
Green Salad With Pomegranate and Mandarin


dressed with

Balsamic Vinaigrette
Strawberry Applesauce Salad
SIDE DISHES
Chiffonade of Brussels Sprouts with Bacon
Spinach Twice Baked Potatoes
Crab Stuffed Potatoes
Dinner Rolls
MAIN COURSE
Prime Rib Roast
DESSERTS
Cranberry Cherry Cheesecake
Frozen Peppermint Cheesecake
A crisp, fresh salad is a great way to start a meal, and the addition of sweet, but tart fruit with a tangy dressing makes even the most boring
lettuce
stand up and be noticed.
Green Salad with Pomegranate and Mandarin
2 cups torn iceberg or romaine lettuce
2 green onions, finely chopped
2 celery ribs, sliced
½ cup pomegranate seeds
½ cup mandarin orange sections
½ cup balsamic vinaigrette (recipe follows)
Mix all greens together in a large salad bowl, adding more lettuce if need be.
Add pomegranate seeds and mandarin orange pieces.
Drizzle with balsamic vinaigrette to taste.
Toss lightly. (Serves 4)


Balsamic Vinaigrette
½ cup olive oil
¼ cup balsamic vinegar
1 tablespoon lemon juice
1 tablespoon Dijon mustard
1 teaspoon honey
1 clove garlic, minced
salt and pepper
Whisk all ingredients together and refrigerate until needed.
Re-shake in container or stir before serving. (Yields 3/4 cup dressing)
Strawberry Applesauce Salad is another bright burst of flavor in what could otherwise be considered a very heavy meal. While I know that
jello salads
make some people roll their eyes, I like this fruity combination and often add it to my holiday table for a punch of color and its tangy flavors.
Strawberry Applesauce Salad
1 (3 ounce) package Strawberry Jell-O
1 cup boiling water
1 (10 ounce package) frozen strawberries, slightly thawed
1 cup applesauce
Dissolve gelatin in boiling water.
Add frozen strawberries (may slice strawberries, if large-sized).
Stir until berries are thawed.
Add applesauce and mix well.
Pour into serving bowl and chill. (Serves 12)
A salad isn't enough green on my plate to make me happy. Although, sauteing brussels sprouts in bacon fat probably cancels out any of the healthy green aspects of Chiffonade of Brussels Sprouts with Bacon. Originally, I prepared this dish by hand shredding each individual little brussels sprout with a
box grater
. For just Hubby and I, this was OK, but I would never consider it for a larger meal with guests. Thankfully, last year's Christmas gift, a
Cuisinart food processor
, works magic with just a pulse of the button.

Chiffonade of Brussels Sprouts with Bacon
2 pounds Brussels sprouts
5 slices bacon, finely diced
1 teaspoon kosher salt
½ teaspoon fresh ground black pepper

Trim the stem end of the sprouts and remove any yellow or spotted out leaves.
Shred the sprouts with the coarse shredding attachment of your food processor.
Set aside until about 10 minutes before service.
Cook the bacon over medium-high heat until crisp.
Remove with a slotted spoon to a paper towel to drain.
Set aside.
Reserve the bacon fat in the pan.
Just before serving, reheat the bacon fat in the pan until hot and add the sprouts to the pan.
Saute until crisp-tender and bright green, about 3-5 minutes...if the bacon does not have sufficient fat, you may add some chicken broth at this time.
Add the bacon, salt and pepper, and toss to combine.
Taste, adjust seasonings and serve. (Serves 8)
Twice baked potatoes are an excellent make-ahead side for serving with a Prime Rib dinner. The combinations of ingredients available are endless, and prep really is easy. I chose both Spinach Twice Baked Potatoes and Crab Stuffed Potatoes to add options for my dinner guests. While the
"green stuff"
in the spinach potatoes might worry some, the flavors are mild with the spinach adding more texture and color than flavor distinction. At our Christmas Dinner, the crab stuffed potatoes were the testers' favorites. I use
surimi
(imitation crab) in the potatoes because I like the bit of sweetness that it offers.
Spinach Twice Baked Potatoes
4 large baking potatoes, scrubbed well
1 package frozen chopped spinach, thawed
¼ cup butter
¼ cup sour cream
½ cup warm milk, approximately
2 cups grated cheddar cheese
salt and pepper
1 pinch cayenne

Cut a small slit on top of each potato, and place in a 400 degree oven for 1 hour or until completely done.
Cut each potato in half, lengthwise, and scoop out into large bowl.
Place the potato shells on a baking sheet.
Squeeze the spinach to get all the water out of it, and until it is fairly dry.
Set aside.
Mash the potatoes in the bowl with the butter, sour cream and milk, salt, pepper and cayenne.
Fold in the spinach and 1/2 the cheddar cheese.
Fill potato shells with this mixture.
Top with remaining cheddar cheese.
These potatoes can be made in advance and kept in the refrigerator for a day prior to baking.
Bake at 350 for about 30 minutes or until heated through and the cheese on top has melted and browned a little. (Serves 6-8)
Crab Stuffed Baked Potatoes
4 large baking potatoes, scrubbed well
¼ cup butter
¼-1/3 cup half-and-half cream
salt and pepper
1 cup shredded cheddar cheese
¼ cup finely chopped green onions
1 package imitation crabmeat, chopped
Bake potatoes at 425 degrees for 45-50 minutes, or until tender.
When cool enough to handle, halve the potatoes lengthwise.
Carefully scoop out pulp into a bowl, leaving a thin shell.
Set shells aside.
Beat or mash potatoes with butter, cream, salt and pepper until smooth.
Using a fork, stir in cheese and onions.
Gently mix in crab.
Stuff shells.
Return to oven for 15 minutes or until heated through. (Serves 6-8)
Living in the middle of
cattle country
, Prime Rib is the featured weekend special at many area restaurants. I have experienced good prime and bad prime, and felt for a long time that it was a complicated meal not to be reproduced in the home kitchen. I was wrong. As long as one keeps an eye on the meat thermometer, and doesn't second guess themselves about the temps that are reported as Rare, Medium Rare, etc. in the
Joy of Cooking
(spoken from experience after a very overly cooked prime time), preparing tender, juicy prime rib at home for a family feast is an easy feat. Horseradish sauce is a must for those that like a little sinus clearing kick.
Prime Rib Roast
prime rib roast (at least 4 pounds)
salt and pepper
4 cloves garlic, minced
Combine salt, pepper and minced garlic in a small bowl.
Rub the roast liberally with the mixture and place fat side up in an open roasting pan.
Sear in a very hot over (450-475 degrees) for 30 minutes, reduce heat to 300 degrees and cook as follows:
Rare – 18-20 minutes per pound – 120 to 130 degrees
Medium – 25 minutes per pound – 140 to 150 degrees
Well – 30 minutes per pound – 170 to 185 degrees
Allow to rest out of the oven for 15 to 30 minutes before carving.
Of course, a holiday meal must end with dessert. I had a slight
disaster
when preparing for my Christmas Dinner. On Christmas Eve day, I began preparations for both a Pumpkin Ginger baked Cheesecake and a Cranberry Lemon Swirled baked Cheesecake. However, it wasn't meant to be. I only used one layer of
foil
to wrap the
spring form pan
of the pumpkin ginger cheesecake, and the water bath seeped in and logged the cheesecake. The canned
cranberry sauce
that I chose for the lemon swirled cheesecake didn't have a deep red color and when swirled with the lemony cream cheese mixture became muddy and inedible looking, instead of the pretty pink that I had envisioned. Those labor and ingredient intensive desserts were soon sent to the trash.
Instead, I shuffled through my to-try list of recipes and found two simple no bake cheese cakes to fill us with one last sweet bite before we left the holiday table. Unfortunately, my bad dessert luck followed me and the Cranberry Cherry Cheesecake didn't set up properly. I served it, but was embarrassed as it slopped onto plates instead of forming perfect wedges of cream cheese goodness. I plan to tweak that recipe to yet find success. It had a great flavor, but presentation was sadly lacking.

Frozen Peppermint Cheesecake makes enough to fill two premade chocolate cookie crusts. It is the perfect light and minty ending to a heavy prime rib meal, and the crushed peppermint
candy canes
on top are in tune with the holiday season. It was a breath of fresh air to finish Christmas Dinner on my plate.
Frozen Peppermint Cheesecake
8 ounces cream cheese, softened
1 can sweetened condensed milk
1 cup hard peppermint candies, crushed (like candy canes)
3 drops red food coloring
2 cups heavy cream, whipped
2 prepared chocolate cookie crumb crusts
Using an electric mixer on high speed, beat cream cheese until smooth and fluffy.
Add condensed milk, crushed mint candy, and the food coloring.
Mix on low to combine, then on high to beat together well.
With a spatula, fold in whipped cream and pour into the crusts.
Cover and freeze until firm.
Garnish with additional whipped cream and whole pieces of peppermint candy, if desired.