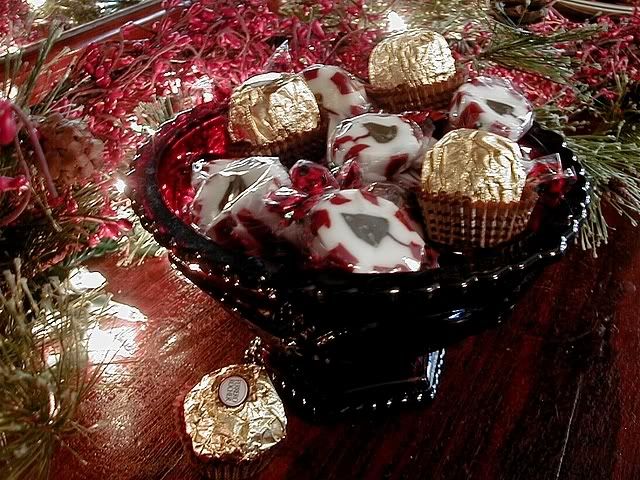 I have had visions of beautiful trays of
Christmas goodies
dancing in my head. For many years, I killed myself baking countless dozens of cookies, making fudge, candies, and other tiny little sweet treats. I coordinated trays of goodies for work, school, friends, family, and neighbors. Everyone that I encountered received a tray of homemade delights. It took hours and hours of prep, and it was the only part of the holidays that filled me with dread.
Then, it hit me. I don't really like to bake. I can fuss for hours over individual hor'devours and snack bites, but tending to a pan of cookies made me want to slit my wrists. I quit. I loved giving them away, but I didn't enjoy making them. It wasn't a labor of love, but real, true
LABOR
with blood, sweat, tears, and a few #@!*& thrown in. That isn't what Christmas is about, and it was spoiling my holiday. I no longer prepare holiday trays of Christmas goodies.
However, it wouldn't be Christmas without some sweet delectable. I do take time to prepare a few little bites, and I scour the specialty markets for suitable purchased versions of others. I buy
divinity
and
peanut brittle
. On my holiday buffet, I add little bowls of sugar coated and chocolate nuts,
chocolate covered cherries
, and a few other candies.
The things that I do prepare are simple. I always make my own
Rich and
Creamy Fudge
, as I have a foolproof recipe gleaned and adapted from a
Creme de Colorado Cookbook
many years ago. This year, I also added a couple of white chocolate barks,
Lemon Bark
and
Cranberry Pistachio Bark
. I highly recommend them, but warn that using the best quality white chocolate you can find makes all of the difference in the finished products.
Raspberry Pastries
were another new item that I tried this year with great success. Relaxing my own expectations for the sugar plums of the season made my holiday go much more smoothly and gave me more time to do the things that I really do enjoy for Christmas.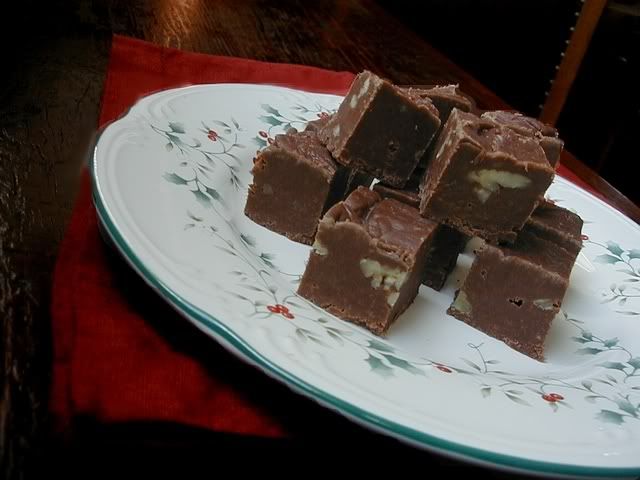 Rich and Creamy Fudge
½ cup margarine (not butter)
12 oz. semisweet chocolate chips
½ cup pasteurized egg substitute
4 cups powdered sugar
1 ½ teaspoons vanilla extract
1 cup chopped pecans


In small saucepan, melt margarine and chocolate chips, stirring until smooth.
In large bowl, beat egg substitute until light in color.
Add powdered sugar and mix well.
Add chocolate mixture.
Stir in vanilla and chopped nuts.
Pour into buttered 9-inch square pan and refrigerate until firm.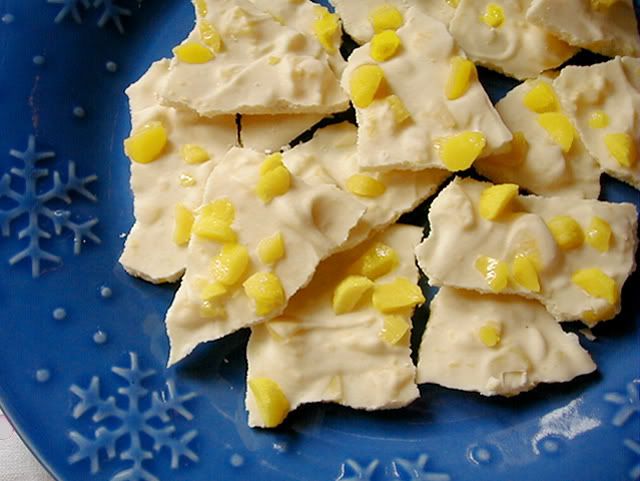 Lemon Bark
12 ounces white chocolate chips
¼ - ½ cup lemon drop candies, crushed
Melt white chocolate in microwave until smooth.
Add crushed lemon drops and mix gently to combine.
Pour onto a parchment lined cookie sheet and spread to about 1/4 inch or so thickness.
Allow to cool until hardened and break into pieces.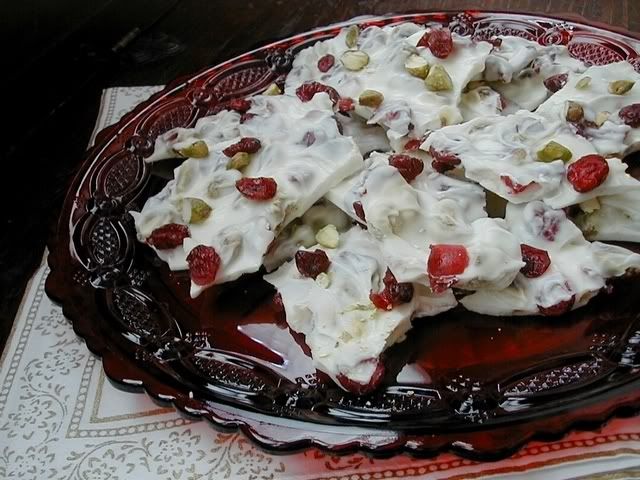 Cranberry Pistachio Bark
1 pound white chocolate
1 cup dried cranberries
1 cup shelled pistachios
If using unsalted pistachios, roast at 350F for 5-7 minutes. Set aside to cool.
Melt chocolate in the microwave or using a double boiler.
Stir cranberries and pistachios into melted chocolate.
Pour onto foil-lined 10x15" edged cookie sheet.
Refrigerate for at least 1 hour or let set over night.
Break into pieces to serve.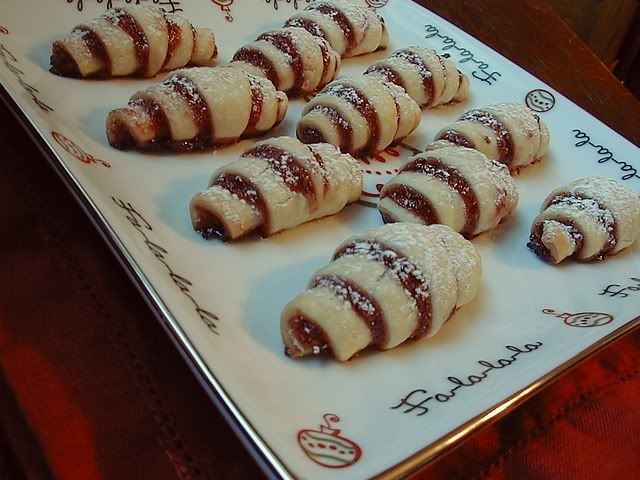 Raspberry Pastries
1 refrigerated pie crust
4 tablespoons raspberry jam
powdered sugar
Unroll pie crust. Spread jam on pie crust leaving a 1/2 inch border at the dough's edge.
Using a pastry wheel or pizza cutter, cut pie crust into 16 wedges.
Starting at outer edge of pastry, roll wedges into crescents.
Place on parchment-lined baking sheet and bake for 15-20 minutes at 375, or until lighty browned.
Sprinkle with powdered sugar, if desired.