There used to be a promotion that told us that a sandwich just wasn't a sandwich without using a special condiment. We were told that
Miracle Whip
would add a tangy zip to finish off any sandwich. I grew up with Miracle Whip; we probably ate gallons and gallons of the stuff on everything when I was a child. I don't really care for it now. Give me a little
Hellman's Mayo
over that tangy stuff any day.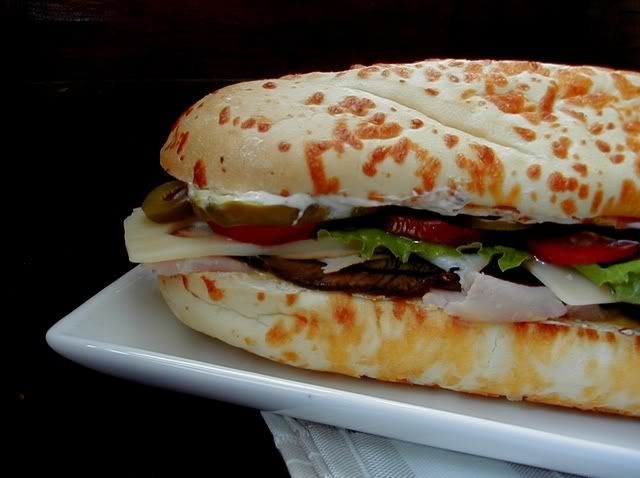 But, even Hellman's can be improved. A recent
Hero Sandwich
recipe was actually light on ingredients, as far as most sandwiches go these days, but combined flavors to their maximum potential for optimum taste. I really do think that the mayo, red wine vinegar, Italian seasoning, garlic, and Tabasco spread makes this sandwich. While it is good fresh, right off of the cutting board, the tip about first buttering the bread allows this sandwich to be wrapped tightly in Saran and stored in the fridge for about a day without any sogginess. Allowing the flavors of the mayo combination to meld really makes an awesome sandwich that just isn't a sandwich.
Hero Sandwich
1 cup mayonnaise
2 tablespoons red wine vinegar
2 teaspoons dried Italian seasoning
1 dash garlic powder
4 drops Tabasco sauce
1 baguette, split
1/3 pound deli turkey
1/3 pound deli roast beef
1/3 pound deli ham
sliced Swiss cheese
1 tablespoon honey Dijon mustard
lettuce leaves
thinly-sliced pickles (I like
Clausen Hearty Garlic Sandwich Slices
)
sliced pimento stuffed olives
sliced tomatoes
Combine mayonnaise, vinegar, Italian seasoning, garlic powder and Tabasco.
Butter baguette- this acts as a seal to prevent the sandwich from getting soggy, and it tastes good too.
Spread bottom with mustard.
Layer deli meats, cheese, lettuce, pickles, olives and tomatoes.
Season tomatoes lightly with salt and freshly ground pepper.
Spread mayonnaise on the inside of the top of the baguette.
Cut baguette into 6 sandwiches, on the diagonal.