A friend pointed out that today is
National Men Make Dinner Day
. I would have loved to have been all over this one. I like to cook, but Hubby also has a few good kitchen skills. (He did once win a game of
Battle of the Sexes
by successfully describing the term "roux.") If there is a day that says he has to cook AND clean up the kitchen, I want to play, too. But, of course, his schedule didn't allow it...if I wanted to eat before 10pm. Our discussion did land me a raincheck, though. I can't wait to hand over the apron.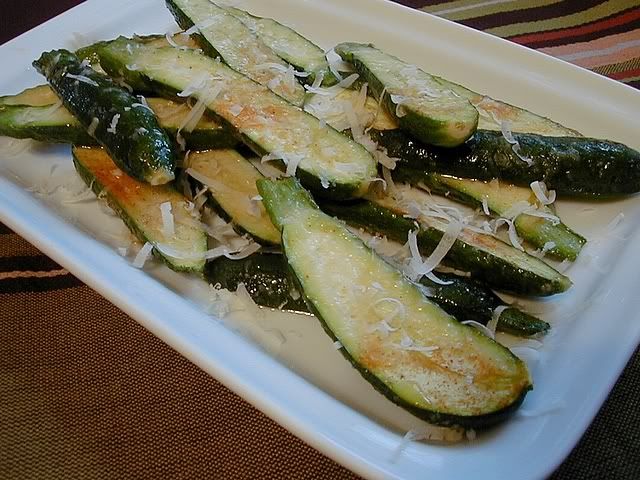 Since I did have to make dinner despite such an important national holiday, I decided to roast a chicken and serve it with rice and
Parmesan Zucchini
. I had picked up these tiny, little, baby zucchini's when shopping at Hy-Vee and thought that they would be perfect for roasting. A search through recipes that I have saved pulled up Easy Parmesan Zucchini. The simple preparation and seasonings were a great match for the little babies. Dinner was served without a hitch. Now, if someone would just go clean up the kitchen. :~)
Easy Parmesan Zucchini
2 medium zucchini (or 8-10 baby zucchini)
2 teaspoons olive oil
½ teaspoon seasoning salt, to taste
½ cup grateParmesanan cheese, to taste
Preheat oven to 350 degrees.
Trim the zucchini, and slice lengthwise into quarters. (For my baby zucchini, I just cut in half.)
Toss with olive oil and arrange on baking sheet. Sprinkle with seasoning salt anParmesanan cheese.
Bake uncovered for 20 minutes. (Serves 4)