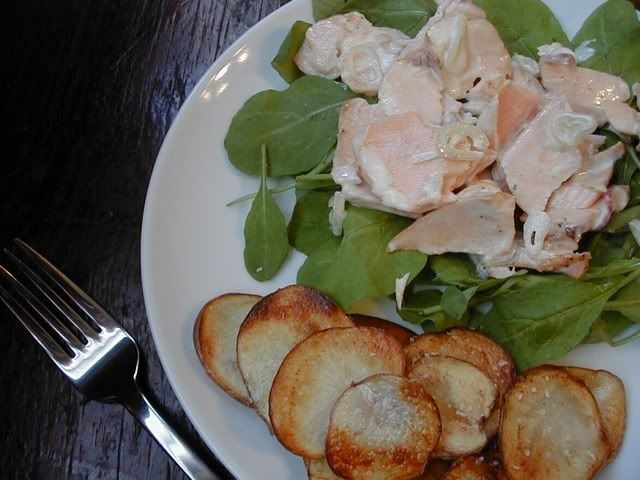 Yesterday, I received an email from
ArcaMax
with the recipe for a
Warm Salmon Salad with Crispy Potatoes
. When I read that the salad used arugula (which I
finally
have on hand after a trip to
Hy-Vee
last week), I couldn't get it out of my mind. I had to make it for lunch today. I didn't have the canned salmon on hand, but did have a pouch of pink salmon that worked well in the downsized-for-one version of the recipe. The salad was remarkable! The potatoes fried up crispy on the outside and tender on the inside of the thin slices and provided a hearty balance to the slightly tangy dressed salmon and the spicy arugula greens. I was in love...so much in love that my lunch plate has led to our dinner plate.
I am preparing a simple broiled salmon fillet for dinner (with a garlic cream sauce to serve on the side) just so that I can use the leftovers to make this
Warm Salmon Salad with Crispy Potatoes
again for lunch tomorrow. I think it is
that
good. Sometimes, one plate does lead to another.
Warm Salmon Salad with Crispy Potatoes
2 tablespoons extra-virgin olive oil, divided
2 small "new" potatoes, cut into 1/8-inch slices
½ teaspoon salt, divided
1 medium shallot, thinly sliced
2 teaspoons rice vinegar
¼ cup buttermilk
2 (7 ounce) cans boneless, skinless salmon, drained
4 cups arugula
Heat 1 tablespoon oil in a large nonstick skillet over medium-high heat. Add potatoes and cook, turning once, until brown and crispy, 5 to 6 minutes per side. Transfer to a plate and season with ¼ teaspoon salt; cover with foil to keep warm.

Combine the remaining 1 tablespoon oil, ¼ teaspoon salt, shallot and vinegar in a small saucepan. Bring to a boil over medium heat. Remove from the heat and whisk in buttermilk. Place salmon in a medium bowl and toss with the warm dressing. Divide arugula among 4 plates and top with the potatoes and salmon. (Serves 4.)