I adore crab. Give me crab legs, crab appetizers, crab and pasta, crab salad, crab chowder, fake crab, real crab, even krab with a "K". It all makes me a happy girl. So, it isn't any great surprise that the menu for our Valentine's dinner incorporates crab. I suppose that it also isn't any great surprise to learn that Hubby and I aren't going out to eat on this romantic night. In our small town, dining options are limited. And, honestly, just as New Year's Eve is considered "amateur night" for the drinkers, I think that a dinner out on Valentine's Day is just asking for disappointment. Menu prices are usually inflated, cooks and wait persons are running ragged, and the chance of the entire experience leaving you screaming, "For the love of..." is pretty large. I would rather do something special at home. I would rather love me some crab from my own
kitchen
.
I had picked up a tub of pasteurized lump crab meat during my last run through
Sam's Club
. Valentine's Dinner seemed like the perfect opportunity to create luscious crab cakes with it. I love good crab cakes, and think that the best recipe lets the sweetness of the crab shine through. I don't want a lot of filler, and don't need heavy seasonings. I want to enjoy the richness of the crab, and
Virginia Crab Cakes
are the pure heaven for me.
In restaurant menus, crab cakes are often found sitting prettily on top of pasta dishes as a main course. To round out my Valentine's dinner, I zoomed in on a recipe that I had snagged some time ago but hadn't yet tried.
Roasted Red Pepper Puree with Prosciutto and Pasta
appears to be a great complement for my love of crab. The sauce is rich and flavorful enough to stand on its own with the pasta, but the crab cakes elevate the meal to something even more special. Valentine's Dinner is crab cakes and pasta On My Plate.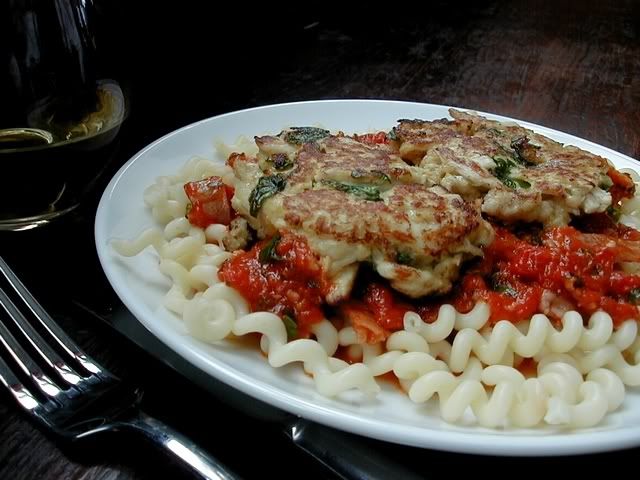 Virginia Crab Cakes
2 cups lump crab meat
1 cup fresh bread crumbs
2 large eggs
½ cup heavy cream
1 dash hot sauce
2 teaspoons Worcestershire sauce
2 teaspoons chopped fresh parsley
2 teaspoons grated onions
2 tablespoons unsalted butter

In a bowl, combine crab meat and bread crumbs.
In a small bowl, whisk eggs well and add cream, whisking.
Add cream mixture, hot sauce, Worcestershire sauce, parsley, onion and salt and pepper to taste to crab mixture and combine well.
In large heavy skillet, heat 1 tbs butter over moderate heat until foam subsides and into it drop half of crab mixture by tablespoons.
Cook crab cakes until golden brown, about 2 minutes, on each side, and repeat with remaining tablespoon butter and crab mixture. (24 appetizer size and 12 main dish crab cakes)
Roasted Red Pepper Puree with Prosciutto and Pasta
4 large red bell peppers
1 tablespoon extra virgin olive oil
2 tablespoons fresh parsley, minced
8-10 basil leaves, snipped
1 clove garlic, minced
1 pound dried pasta (linguine, spaghetti, or your favorite)
3 ounces prosciutto, cut into thin strips
½ teaspoon salt
fresh ground pepper

Cut the red peppers in half, remove and discard the seeds and inner membranes. Flatten the pepper with the heel of your hand and place skin side up on a baking sheet, repeat with other peppers. Broil the peppers until they are completely charred and blackened. THE SKIN WILL NOT PEEL OFF EASILY UNLESS ITS BURNED! Remove the peppers to a plastic or paper bag and close tightly, place in the freezer until the peppers are cool enough to handle, about 10 minutes.
With your fingers, peel and discard the loosened skin from the peppers, rinse under water.
Roughly chop the peppers and combine them with the oil, parsley, Basil and garlic in a food processor.
Spray an 8 inch skilled with cooking spray, and sauté the prosciutto over high heat, just to heat through.
Stir the meat into the red pepper puree, add salt and pepper and taste to adjust seasoning and pour over bed of cooked pasta. (Serves 4)
HAPPY VALENTINE'S DAY!