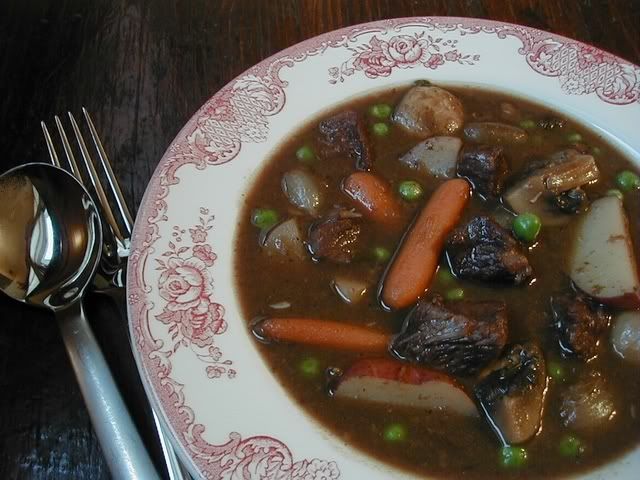 I was freezing when I woke up this morning. I just couldn't get warm. The outside temperature was in the 30s, and indoors, the thermostat was set at 72, but I couldn't stop shivering. It is on days like these that I want hearty comfort food. Beef stew seemed like the right choice.
A search of my options yielded a
Food Network
recipe by
Tyler Florence
. I made some adjustments to suit our personal tastes. I just can't imagine that Hubby would care for a stew that contained an entire bottle of wine. Red wine can add depth of flavor to beef and tomato dishes, but I don't think that it needs to be a center ingredient in any stew. I also omitted the orange zest and didn't serve with the Horseradish Sour Cream.
Ultimate Beef Stew
did come together easily and did satisfy my craving for a hearty, beefy soup. However, I think that in the future, I will stick to my tried and true method of just winging my beef stew recipe. It has never failed me to just toss whatever ingredients I have on hand in the pot to simmer together to create a great stew. Ultimate Beef Stew? Maybe not, but we still like it. Stew me.